Exploring the Foundations of Churchill's Leadership Education Programming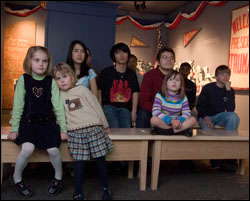 With the help of a grant from the Institute of Museum and Library Services, the National Churchill Museum partnered with Project Explore, one of the Midwest's most respected and accomplished museum curriculum and program developers, to develop outreach and onsite programs for Missouri's schools.
The goal of this project, Exploring the Foundations of Churchill's Leadership, was to provide lifelong learning opportunities for schoolchildren, college students, families, and older adults, using the Churchill Museum's unique resources, and particularly the interactive exhibit Winston S. Churchill: A Life of Leadership.
Education curricula and programs at the Churchill Museum have been developed to meet the needs of Missouri's students and teachers. These exciting and innovative programs have the goal of influencing learners to be active participants in the amazing story of the 20th Century, from World War I to the Cold War.
Museum Experience
Classroom Experience

This project is made possible by a grant from the U.S. Institute of Museum and Library Services