Winston S. Churchill Leadership Medal
Monroe E. Trout Awarded Winston Churchill Leadership Medal by America's National Churchill Museum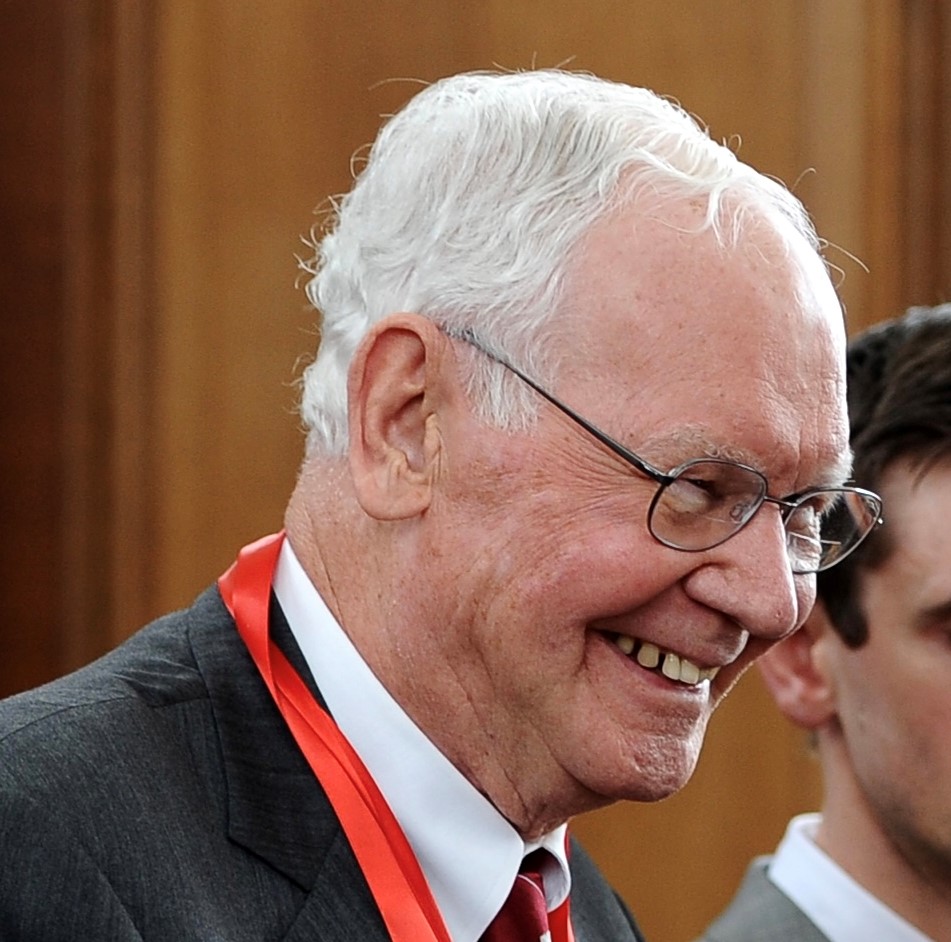 FULTON, MO, March 5, 2021 – For his community service and contributions in the fields of education, health care, and the art world, Dr. Monroe E. Trout, of Appleton, WI, was awarded the prestigious Winston Churchill Leadership Medal by America's National Churchill Museum at Westminster College.
The award is the Museum's highest honor and is presented to individuals who have demonstrated extraordinary leadership in the spirit of Winston Churchill.
Trout, 89, received the award during virtual ceremonies at 11 a.m. CST, Friday, March 5 as a part of a two-day commemoration of the 75th anniversary of Churchill's "Iron Curtain" speech.
The ceremony was followed by the Museum's 34th Enid and R. Crosby Lecture by Pulitzer Prize-winning Washington Post Columnist George F. Will. The ceremony and other anniversary events, including the induction of new Churchill Fellows, was be livestreamed and is now available for replay.
"Westminster is pleased to announce Dr. Trout's selection for this prestigious award," said Donald P. Lofe, Jr. Interim President and Chief Transformation Officer of the College, where former British Prime Minister Sir Winston Churchill gave his famous "Iron Curtain" speech 75 years ago. "His generosity, resilience, and determination reflect Churchill's leadership style and serve as an inspiration to current and future leaders of the College."
Trout is chair emeritus of American Healthcare Systems and Cytyc Inc., now known as Hologic.
In 1995, the Horatio Alger Association presented Trout with the Horatio Alger Award, and with good reason. Born and raised in Harrisburg, PA, during the Great Depression, Trout was one of 14 children who, like his older siblings, worked while young to help support his family.
At age 6, he began working odd jobs such as mowing lawns, shoveling snow, carrying out ashes from the coal furnace, and cleaning the medical office of a local surgeon.
His older siblings dropped out of school to go to work, but Trout was an excellent student who graduated as salutatorian of his class and won a scholarship to the University of Pennsylvania. There, he earned his room and board as a dormitory advisor and pocketed extra money as a university parking lot attendant.
Trout continued on to the University of Pennsylvania Medical School and worked as a laborer during summers. After graduation, he spent eight years in the Navy and then returned to Pennsylvania as chief of medicine at the Harrisburg State Hospital.
Concurrently, he was a student at Dickinson Law School (now Pennsylvania State University Law School) who simultaneously taught a course on medicine and law. At his 1964 graduation, Trout was the only person pictured in the yearbook as both a student and an instructor.
For more than 40 years, Trout has been a force in the health care industry. He worked in governmental affairs for Pfizer Inc., and in 1968, joined Winthrop Laboratories. In 1978, Trout became a senior vice president of the parent company, Sterling Drug. He retired in 1986, but two months later joined American Healthcare Systems (AHS) as chair and CEO, subsequently rebuilding AHS. In 1991, he received the National Healthcare Award from B'Nai B'rith International.
In addition, Trout has served on the board and executive teams of SAIC, the University of California San Diego Foundation, Baxter International, Sterling Drug, Cytyc Inc., West Pharmaceuticals, Criticare, and University of the Cumberlands in Kentucky.
Trout has said education "unlocked the door to my future, and my experience imbued me with a spirit of helping others." He backed that statement up by helping to found Atlanta's Morehouse School of Medicine where he endowed scholarships. He also received honorary degrees from, and established scholarships at Dickinson School of Law (PA), Bloomfield College, (NJ) and University of the Cumberlands (KY). He has also endowed professorships in pharmacology and surgery at the University of California at San Diego. More recently, he endowed three chairs at the University of Wisconsin McPherson Eye Institute.
He has received honorary degrees from Dickinson School of Law, Bloomfield College, and University of the Cumberlands.
Trout's contributions to the art world and his service to the Appleton and Knoxville, TN, communities also demonstrate his strong leadership and keen judgement. He established a variety of PBS Wisconsin programming, including the Wisconsin Public Broadcasting System Kids Channel in memory of his son.
He has endowed scholarships at the Maine Corp Scholarship Foundation, from which he received the Semper Fidelis Award in 2019. He also established an endowment fund at the Veterans of Foreign Wars Post in Freedom, WI. Additionally, Trout has made major contributions to many charities in the Fox River Valley in Wisconsin.
In 1960, Trout married Sandra Lemke, also of Appleton. During more than 60 years of marriage, they collected art as they traveled the world. Today the Trout Collection is an eclectic mix of over 150 museum-quality works of art, including American, European, Asian, and African paintings, sculptures, and other decorative objects that represent more than 400 years of art history.
In 2010, the Trouts gifted their collection to the Appleton Art Center, now the Trout Museum of Art, along with a $1 million endowment to preserve, protect, and promote the collection.
Trout also is the founding sponsor of the famous Rossini Festival in Knoxville, TN, and was Knoxville's 2004 Philanthropist of the Year.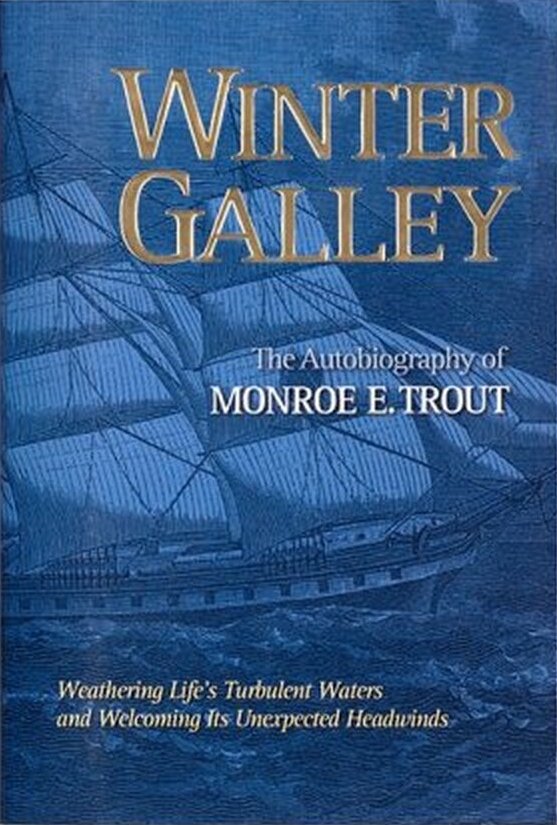 The couple has been a major supporter of the educational mission of America's National Churchill Museum, which is the only museum in North America fully dedicated to commemorating the life and times of Churchill.
In accepting the Churchill Leadership Medal, Trout will join other notables, including former U.S. Senator John Danforth and his brother, Dr. William H. Danforth; former chancellor of Washington University; Ambassador Stephen Brauer; British Prime Minister Sir John Major; the late journalist and television news pioneer Walter Cronkite; and John W. Bachmann, retired CEO of Edward Jones.
Additionally, signed copies of Trout's autobiography, Winter Galley: Weathering Life's Turbulent Waters and Welcoming its Unexpected Headwinds(2008) are available from the Museum's online store.
For more information: Call, text, or email Tom Pagano at 314-602-7549 or tompagano@mostrata.com, or Sarah Backer at 573-220-9038 or Sarah.Backer@WCMO.edu.
---
Churchill Leadership Medal Presented to Sen. John C. Danforth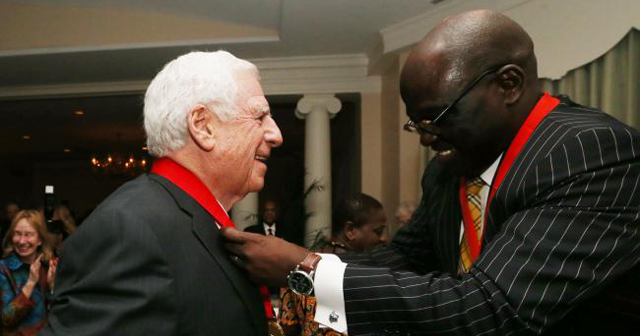 On Thursday, June 8, 2017 Westminster College President Dr. Benjamin Ola. Akande presented the Churchill Leadership Medal to Sen. John C. Danforth during a dinner to benefit the National Churchill Museum. The event took place at Bellerive Country Club in St. Louis. Senator Danforth is an ordained Episcopal priest, former three-time U.S. Senator (R-MO) and former U.S. Ambassador to the United Nations. In 2001, President Bush appointed Sen. Danforth as a special envoy for peace in Sudan, where he worked to broker a peace agreement that, in 2005, ultimately ended the twenty-year civil war. He is currently a partner at Dowd Bennett LLC in St. Louis.
Read Sen. Danforth's acceptance speech here.
The Museum recognizes individuals who have demonstrated extraordinary leadership with its highest honor: The Winston Churchill Leadership Medal. Past recipients include Dr. William H. Danforth, Chancellor Emeritus of Washington University; broadcast journalist Walter Cronkite; John W. Bachmann, retired CEO of Edward Jones; former British Prime Minister Sir John Major; and Ambassador Stephen F. Brauer.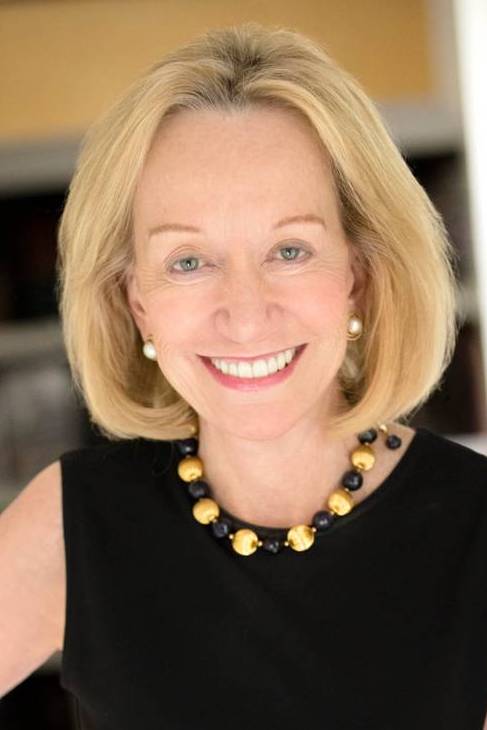 The keynote speaker for the evening was historian and Pulitzer-prize winning author, Doris Kearns Goodwin. Ms. Goodwin was awarded the Pulitzer Prize in history for
No Ordinary Time: Franklin and Eleanor Roosevelt: The Home Front in World War II
.
No Ordinary Time
was also awarded the Harold Washington Literary Award, the New England Bookseller Association Award, the Ambassador Book Award and The Washington Monthly Book Award. Ms. Goodwin is the author of the bestsellers
Wait Till Next Year, Lyndon Johnson and the American Dream
and
The Fitzgeralds and the Kennedys
, which was adapted into an award-winning five-part TV miniseries that aired on ABC.
At the event, Sen. Danforth, Dr. Goodwin and The Rt. Hon. Lord Watson of Richmond were installed as Churchill Fellows of Westminster College.