75th Anniversary of "Sinews of Peace"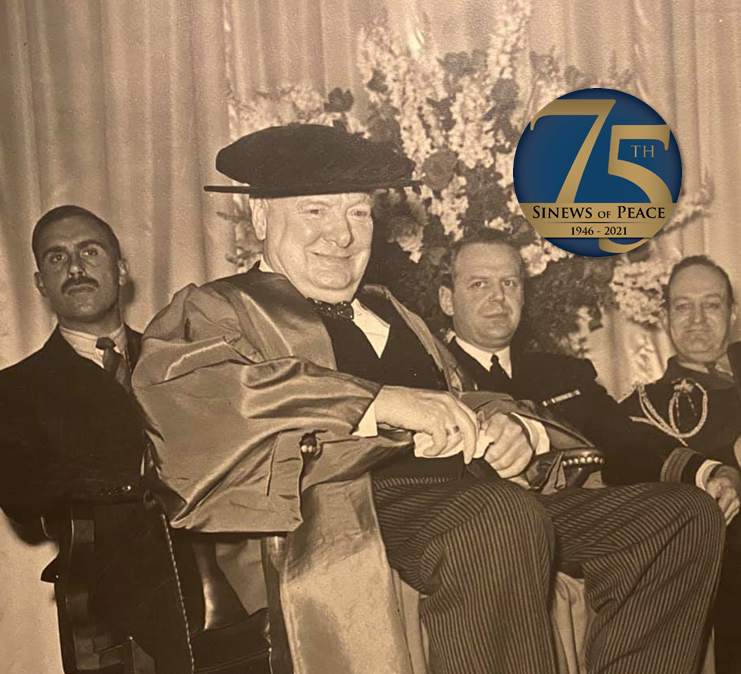 America's National Churchill Museum will commemorate the 75th anniversary of Winston Churchill's "Sinews of Peace" address, commonly known as the "Iron Curtain" speech. On March 5-6, 2021, the world will be invited to a virtual commemoration, live from Westminster's Historic Gymnasium and other Churchill-related sites on campus. Dignitaries, leaders, and members of the Churchill family will participate from all parts of the world and join the Westminster community for what promises to be a memorable celebration.
The livestreamed program will begin on Friday, March 5 at 10:00 am (CST) and events will continue until 3:30 pm (CST). An installation of Churchill Fellows will take place on Saturday, March 6 at 10 am (CST).

NOTE: Event sponsors are entitled to special benefits including commemorative gift packages, a virtual cocktail reception, and an exclusive Q & A session with George Will.
Read the full text of Churchill's "Sinews of Peace" address.
---
Program
Friday, March 5 (begins at 10:00 am CST)
Click to find your local time for each segment.
10 am – The Churchill-Truman Legacy, a discussion with Clementine and Winston Churchill's granddaughter The Hon. Edwina Sandys and President Harry Truman's grandson Clifton Truman Daniel. Their discussion will be moderated by Museum director Timothy Riley and Kurt Graham, director of the Harry S. Truman Presidential Library.
11 am – Winston S. Churchill Leadership Medal Award presentation and tribute to Dr. Monroe E. Trout
12 pm – 34th Enid and R. Crosby Kemper Lecture on "Churchillian Realism" by George F. Will, Pulitzer Prize-winning commentator
1 pm – Reflections on "Sinews of Peace"
Greetings from Dame Karen Pierce, British Ambassador to the United States
Commentary from Churchill Fellows, historians, Churchill family, and past John Findley Green Foundation Lecturers. Guests include Andrew Roberts, Gen. (Ret) David Petraeus, William Roedy, Randolph Churchill, Edwina Sandys, Allen Packwood, Catherine Katz, Justin Reash, Lee Pollock, David Freeman, Katherine Carter, Craig Horn, Tobias Gibson, Philip Boeckman, Richard Mahoney, Baxter Watson, Earl Harbison, Jr., Mark Sutherland, Bob Geldof, and many others.
2 pm – "Conversations with Crosby: Churchill Today," a panel discussion about the legacy of the "Sinews of Peace" including discussion about national and international security, the of the special relationship in today's world with historian Andrew Roberts, Sandra L. and Monroe E. Trout Director and Chief Curator Timothy Riley, and R. Crosby Kemper III, Director of the Institute for Museums and Library Services
3 pm – World premiere of Franta and Winston, a new documentary by Steve Stinson about the Museum's iconic sculpture of Winston Churchill by Franta Belsky (Czech-British, 1921-2000)
3:45 pm – Opening of Sinews of Peace: The Power of Prose, a virtual exhibition examining the annotated draft of the "Iron Curtain" speech from the Museum's collection. The exhibit was created by America's National Churchill Museum and students at Westminster College in Fulton, MO.
Saturday, March 6 (begins at 8:00 am CST)
8 am – C-SPAN's Washington Journal will devote live program time to the "Sinews of Peace" speech from America's National Churchill Museum. C-SPAN3 will also be dedicating several hours of programming between 7 pm Friday and 2:50 am Monday to Iron Curtain speech-related content (full schedule). To watch this program, please tune in on C-SPAN3 (replay also airing at 7 pm and 11 pm); it will not be livestreamed by the museum.
10 am – Installation of new Churchill Fellows of Westminster College including:
Colin Brown of Lighthouse Point, FL, chair of the board of JM Family Enterprises, Inc.;
U.S. Navy Vice Admiral (Ret.) Michael T. Franken of Sioux City, IA, first commanding officer of the USS Winston S. Churchill;
Keith S. Harbison of St. Louis, MO, founder and managing partner of Alitus Partners;
U.S. Air Force Lieut. Gen. (Ret.) Richard C. Harding of Columbia, MO, retired The Judge Advocate General (TJAG) in Washington, DC;
Erik Larson of New York City, author of six New York Times bestsellers, including his newest book, The Splendid and the Vile: A Saga of Churchill, Family, and Defiance During the Blitz;
The Honorable Michael Y. Scudder of Chicago, IL, U.S. Court of Appeals for the Seventh Circuit;
Cita Stelzer of Scottsdale, AZ, author of two highly successful books about Churchill: Dinner with Churchill and Working with Winston: The Unsung Women Behind Britain's Greatest Statesman;
George Will of Washington DC, veteran columnist for The Washington Post and Pulitzer Prize-winning political commentator
In Memoriam: A Tribute to Churchillians Lost
---
The "Sinews of Peace" 75th Anniversary virtual commemoration is free and open to the public thanks to the generosity of Mr. William Reller, Dr. Monroe E. and Sandra Trout, Harold and Signe Oakley, and the Edwin Malloy Jr. Endowment for America's National Churchill Museum. Additional support provided by the International Churchill Society, Barbara and Richard J. Mahoney, Philip and Erin Boeckman, Clark and Susan Durant, Isabelle and Jean-Paul Montupet, Keith Harbison, and William Piper.