Churchill Fellows Weekend
The Association of Churchill Fellows invites you to Churchill Fellows Weekend, celebrating the life and legacy of Sir Winston S. Churchill.
2017 date: TBD
National Churchill Museum on the campus of Westminster College
Fulton, Missouri
Previous schedule of events for 2016 weekend
Saturday, April 9, 2016: Winston Churchill Day in the U.S.
3:00 PM: Lecture--Garry Kasparov, former world chess champion and author of Winter Is Coming: Why Vladimir Putin and the Enemies of the Free World Must Be Stopped
Mr. Kasparov will lecture on "The Courage to Continue." Reception and book signing after the lecture. For more information, visit here.
6:00 PM: Cocktails--National Churchill Museum
Tour the museum and view the exhibit "The Prime Minister, the President, and the General," commemorating the seventieth anniversary of the Iron Curtain Speech and the role of Major General Harry H. Vaughan in inviting Churchill to Westminster College.
7:00 PM: Dinner--National Churchill Museum
In celebration of the anniversary of Churchill's honorary U.S. citizenship, we'll toast the greatest leader of the twentieth century, Winston S. Churchill. Special guests: Garry Kasparov and Klaus Larres.
Sunday, April 10, 2016
11:30 AM: Brunch--Backer Dining Hall, Westminster College
Join Churchill experts and the Kemper Lecturer for a Q and A about Churchill, the Cold War, and the legacy of the Iron Curtain Speech.
2:00 PM: The Enid and R. Crosby Kemper Lecture and the Investiture of New Churchill Fellows--The Church of St. Mary the Virgin, Aldermanbury, at the National Churchill Museum
Dr. Klaus Larres, author of Churchill's Cold War and many other essays and articles about Churchill and recent European politics. Visit Klauslarres.com for more information about this year's Kemper Lecturer.
3:00 PM: Reception and Book Signing
Klaus Larres in the galleries of the National Churchill Museum.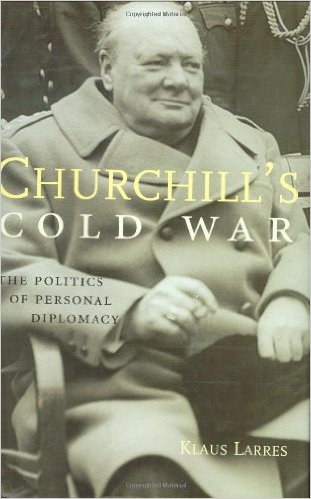 For additional information, email us or call (573) 592-5602.
Previous Kemper Lecturers: Most of the lectures through 2000 are available in booklet form in the museum shop.