Earle Harbison Jr. Honored with Distinguished Churchill Fellows Award
St Louisan Earle H. Harbison Jr. Honored with Distinguished Churchill Fellows Award

The Association of Churchill Fellows of Westminster College also saluted Winston Churchill "The Sportsman," Harbison's CIA Service

More than 100 people turned out Thursday night at the Bogey Club to salute St. Louis businessman, philanthropist, and former deputy director of the Central Intelligence Agency (CIA) Earle H. Harbison Jr., of St. Louis, who received America's National Churchill Museum's Distinguished Churchill Fellows Award.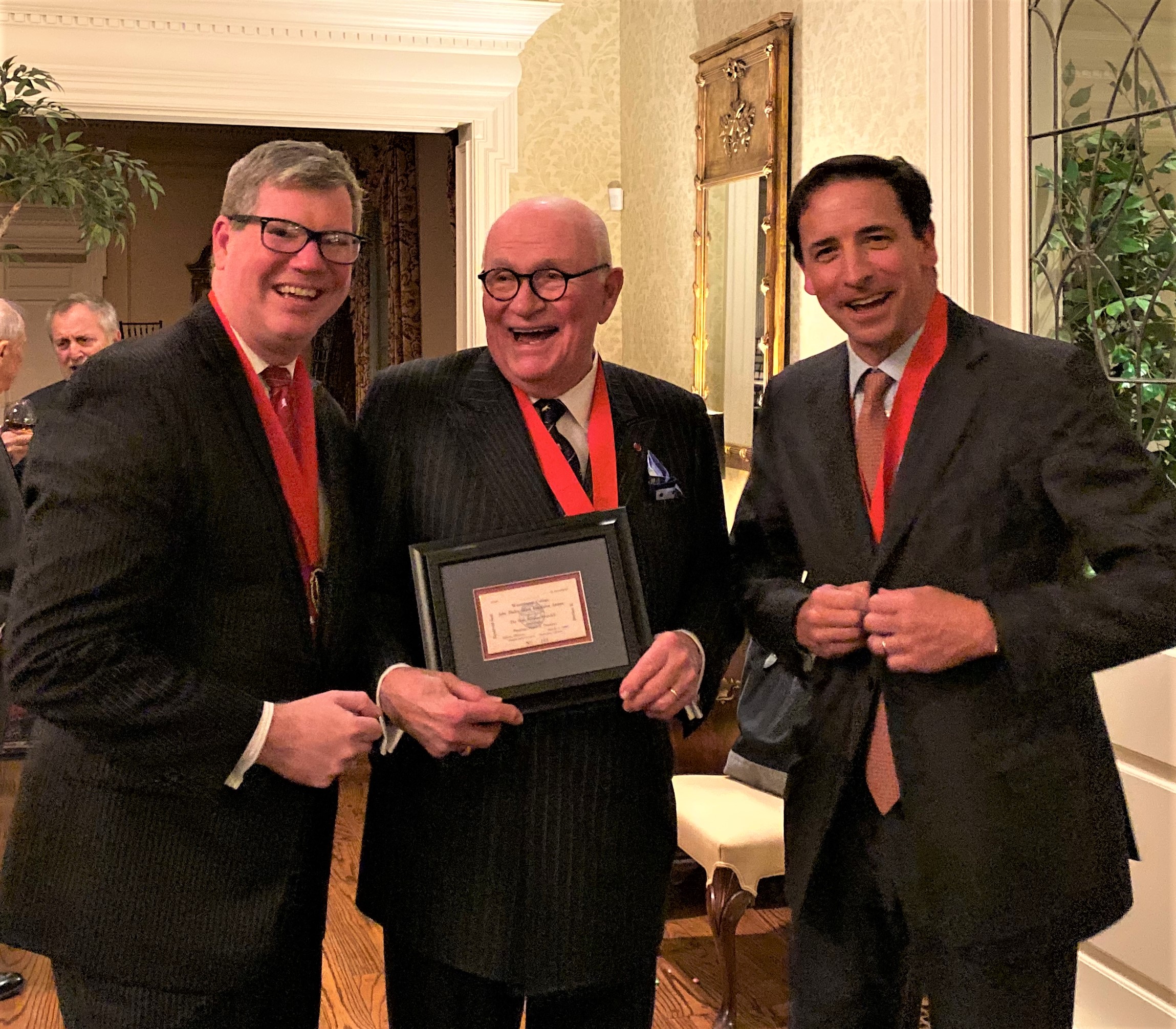 The award was given by the Association of Churchill Fellows for Harbison's dedication to the association and for his long commitment to America's National Churchill Museum on the campus of Westminster College in Fulton, MO. It is the only museum in North America dedicated to commemorating the life and times of former British Prime Minister Sir Winston S. Churchill, the 20th century's greatest statesman.
The evening's program included a variety of guest speakers who saluted Harbison's long service with the CIA. They also focused on Churchill as a "sportsman," who enjoyed horseback riding, racing thoroughbreds, playing polo and golf, fishing, hunting, and swimming.
In anticipation of next June's series between the St. Louis Cardinals and the Chicago Cubs in London, the program explored sportsmanship and the power of sports to forge alliances and generate support for a common cause, which served as the theme for a variety of guest speakers' comments.
Speakers included Olympic swimmer and world record-holder Katie Hoff, of New York City; a 30-year veteran and senior officer of the CIA, Mark S. Sparkman, of Washington D.C.; one of the most highly regarded national security lawyers and policy advisors in the nation, Judge James E. Baker, of Syracuse, NY; retired business executive and Churchill Fellow Richard J. Mahoney, of Ladue; and other guests.
Harbison, a distinguished member of the Board of Governors of America's National Churchill Museum, said his fascination with Churchill began long before he witnessed Churchill's arrival with President Harry S. Truman in Fulton on March 5, 1946, when Churchill delivered his famous "Sinews of Peace" speech, often called his "Iron Curtain" speech, at Westminster College in Fulton, MO.
Harbison received an A.B. degree from Washington University in St. Louis where, as a student, he drove to Fulton to hear Churchill deliver his speech. He did not have a ticket but was able to see Churchill waving to the crowd as he rode by in a car with Truman – an image that was seared in his memory.
Following the ceremony, Senior Churchill Fellow Philip Boeckman and the Museum's Sandra L. and Monroe E. Trout Director Timothy Riley presented Harbison with an original ticket to the famous speech.
"It's been nearly 75 years, but I finally have one," said an appreciative Harbison. "When I heard Churchill's speech in Fulton as a young man, I did not know how significant it would become. We were young, but I am proud to have been there."
After graduating from Washington University, Harbison earned his law degree from George Washington University and attended Harvard Business School. He was soon recruited as a deputy director in the newly formed Central Intelligence Agency (CIA) during the administration of President John F. Kennedy.
Harbison had a highly successful 18-year career with the CIA, then returned to St. Louis to join Monsanto, where he worked for the next 26 years. He also is a former chair of the St. Louis Regional Chamber, the St. Louis Municipal Theatre Association, also known as the MUNY, and served on the boards of Barnes-Jewish Hospital Foundation, the St. Louis Art Museum, the Missouri Historical Society, and other local cultural institutions. He's also a trustee emeritus of Washington University, whose Chancellor's House is named in his honor.
Hoff is best known for winning one Silver and two Bronze Olympic medals at the 2008 Beijing Olympic Games and her comeback wins to earn Gold medals at the 2010 and 2011 World Championships. She is the current American record holder in the 400 meter Individual Medley. Hoff discussed the need to be resilient in sports, and how forging alliances can help build support for a common cause.
"It is an honor to salute Winston Churchill and Mr. Harbison, who's relentlessness served them -- and the world -- so well in their careers. I'm delighted to learn Churchill also was a swimmer. I would have liked to have raced him," Hoff said, smiling.
Baker cited Churchill's "Iron Curtain" speech as one of the most important of the 20th century. "He spoke about the deeds of freedom, our rule of law and the pursuit of liberty," he said. "Earle Harbison defended those laws during the Cold War. His generation, though often unheralded, is one of the greatest."
Sparkman then read a letter from CIA Director Gina Haspel, who with CIA Deputy Director Vaughn Bishop, saluted Harbison's service to the country.
"Vaughn and I are delighted to congratulate distinguished CIA alumnus Earle Harbison, Jr., on receiving the Distinguished Fellows Award from the Association of Churchill Fellows. As Winston Churchill said during the Second World War, 'The great thing is to get the true picture, whatever it is.'
"As an Intelligence Community pioneer in the use of imagery analysis and data processing, Earle helped our national leaders get the true picture as they navigated the treacherous hazards of the Cold War," Haspel's letter continued. "All of us at CIA salute him for this and for all his many accomplishments over a long and very distinguished career, both at the CIA and afterwards."
America's National Churchill Museum, which is open daily from 10 a.m. to 4:30 p.m., is a center for hands-on, innovative learning, making history relevant for visitors of all ages: from grade-school students to the men and women who remember Churchill's life and times, his wit and wisdom, and his leadership.
The Museum's archives, personal papers, and exhibits include more than 10,000 artifacts donated by members of Churchill's family, many of whom are actively engaged in the Museum today, and by people from around the globe. The Museum's vaults contain personal Churchill correspondence, original Churchill paintings, and one of the largest privately owned collections of Churchilliana in the world.
For more information, please contact Sarah Backer, (573) 220-9038, sarah.backer@westminster-mo.edu, or Tom Pagano, tompagano@mostrata.com, 314-602-7549.