National Churchill Museum
Welcome to the website of America's National Churchill Museum located on the campus of Westminster College in Fulton, Missouri.
Here you will find information and resources describing who Winston Churchill was, what he did during the course of his long life and why his legacy continues to inspire new generations today, nearly 50 years after his death.
In addition to this virtual treasury of Churchillian knowledge you will find details of the National Churchill Museum itself and a description and flavor of our permanent exhibition and how we tell Churchill's story as part of an engaging exploration of his role as a man of three centuries. Here too you will find news about the latest events and temporary displays at the Museum and how you can plan a visit or get involved.
However you visit us, whether in person or via the internet, we look forward to helping you learn more about the man many consider to be the man of the 20th century and whose example lives on into the 21st!
Schedule a Tour: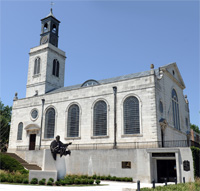 Make a reservation to tour the National Churchill Museum.
Upcoming Exhibit January 2013:

Reagan and Thatcher
Our new in-house temporary exhibit is the story of President Reagan and Prime Minister Thatcher as they challenged the political landscape and move forward their domestic and foreign policies. Learn More
Programs & Events
Nov. 14 - Dec. 31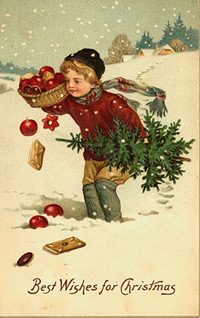 Sunday, Dec. 8
Thursday, Dec. 19
Church of St. Mary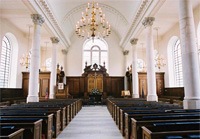 Open 362 days a year!
Weddings, rehearsals, memorials, concerts, and more. Call us for your next event. Learn More
Churchill & Westminster College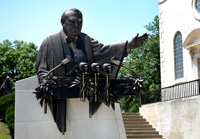 Come and explore Churchill's Life of Leadership and his journey to Westminster College in Fulton, MO. Experience the "Iron Curtain" speech given in 1946 as part of the Green Lecture Series. Learn More
The Churchillian Summer 2013 Issue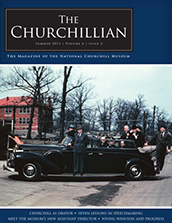 Featuring The Accidental Churchill, Churchill's Relevance, and Churchill & the Titanic: Guilt by Association. Learn More
Weddings

Reserve Your Wedding at the Church of St. Mary
Let us help you make your wedding day the day you dreamed it would be. Rental fees vary according to demand and availability of space. The lowest rates are for usage during winter months and mid-week. Discounts of $200 are provided to current students, faculty/staff members and college alumni. View All Reservation Pricing