Membership Magazine Finest Hour Offered Free
Current Issue of International Churchill Society's Acclaimed Journal Finest Hour Offered Free
Complimentary digital issue is latest in series of free offerings including virtual conference and digital archive access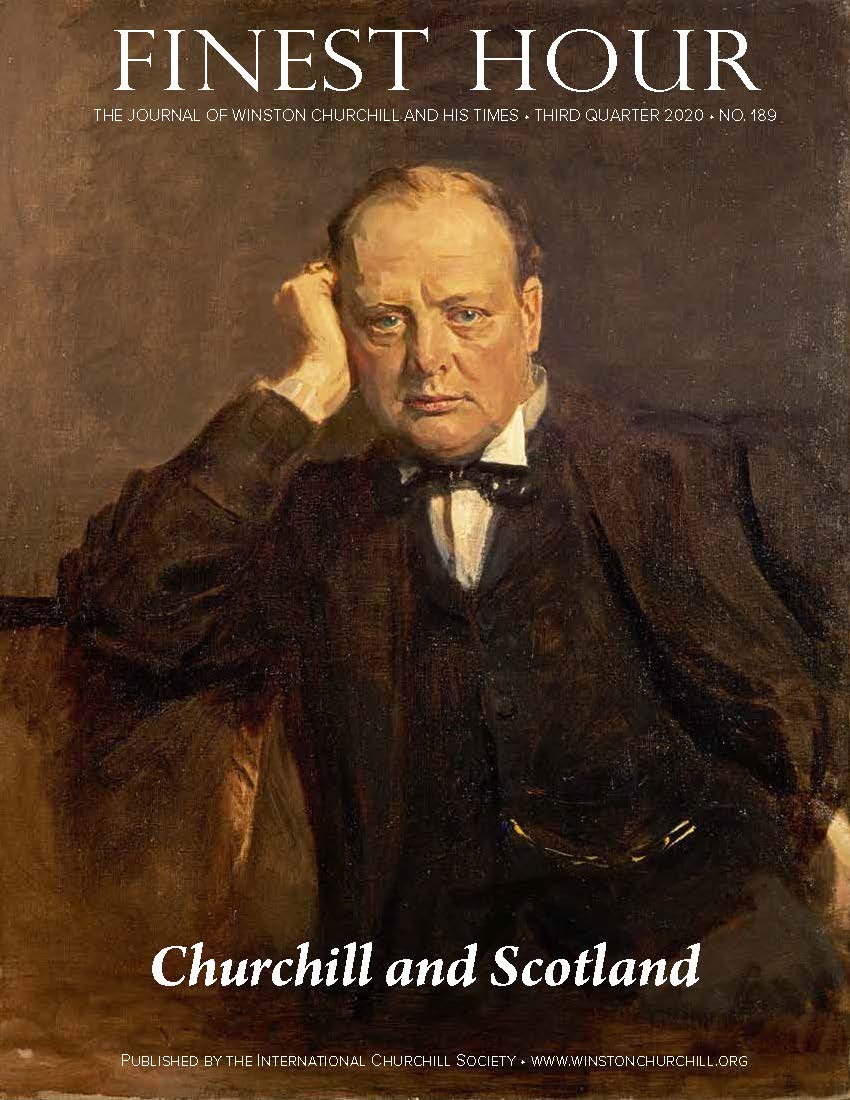 The newest issue of Finest Hour, the high-quality, glossy journal published quarterly by the International Churchill Society, is being made available free via the Society's website, it was announced today.
The acclaimed scholarly journal, which has been published since 1968, is distributed to members of the Society, but will be immediately available free-of-charge on the Society's website (https://winstonchurchill.org/finest-hour-scotland/) to a worldwide audience.
In making the announcement, International Churchill Society Chairman Laurence Geller said: "At a time when so many are increasingly reliant on quality online resources to supplement or supplant in-person learning, we are pleased to make the current issue of Finest Hour available to all without charge."
The issue considers former British Prime Minister Winston S. Churchill's numerous but not always well-known connections to Scotland. It contains a foreword by former British Prime Minister Gordon Brown, a Scotsman who occupied 10 Downing Street from 2007–2010.
The Society also announced that its 37th International Churchill Conference themed "Churchill in Adversity," scheduled for October 23-24, will also be free and open to the public online, though advance registration is required.
These announcements sustain and strengthen the International Churchill Society's commitment to providing open access to the study of Churchill, his life, and his continued relevance today. In 2015, the entire Churchill Archive was digitized and made available free-of-charge to schools. The digital archive is normally only available only by annual subscription.
Bloomsbury Publishing and the Sir Winston Churchill Archive Trust created The Churchill Archive for Schools' website in partnership with the International Churchill Society and the Churchill Archives Centre at Churchill College at the University of Cambridge in the United Kingdom. The Churchill Archive for Schools website has a wealth of classroom-ready resources for teachers and students, and provides an extensive range of resources specially written and developed by leading history educators to support the teaching of history at the secondary level.
"In our digital age, freely sharing trusted resources about a statesman and leader like Winston Churchill is fundamental to how we form an understanding of present and future challenges," said Timothy Riley, the Sandra L. and Monroe E. Trout Director and Chief Curator of America's National Churchill Museum at Westminster College in Fulton. "Churchill himself might have appreciated resources that encourage us to look forward by studying the past."
Justin Reash, Director of the National Churchill Library and Center at The George Washington University, agreed. "Churchill was a man who not only made history, he read it—and wrote about it—extensively. We are very happy to share some of that history freely to a global audience through the current issue of Finest Hour."
The International Churchill Society (ICS), founded in 1968 shortly after Churchill's death, includes America's National Churchill Museum at Westminster College in Fulton, Missouri and the National Churchill Library and Center at The George Washington University in Washington, D.C. With affiliates throughout the world, ICS is the world's preeminent member organization dedicated to preserving the historic legacy of Sir Winston Churchill. It has thousands of members worldwide.