Researching at America's National Churchill Museum
America's National Churchill Museum welcomes researchers to access our archival and artifact collections. Though our services are most appropriate for clients with targeted subjects and in advanced stages of their projects, all inquiries are welcome. At this time we offer limited public access to our non-circulating collection as there is yet no online access to our collections database. Please see our fee schedule below for requesting images.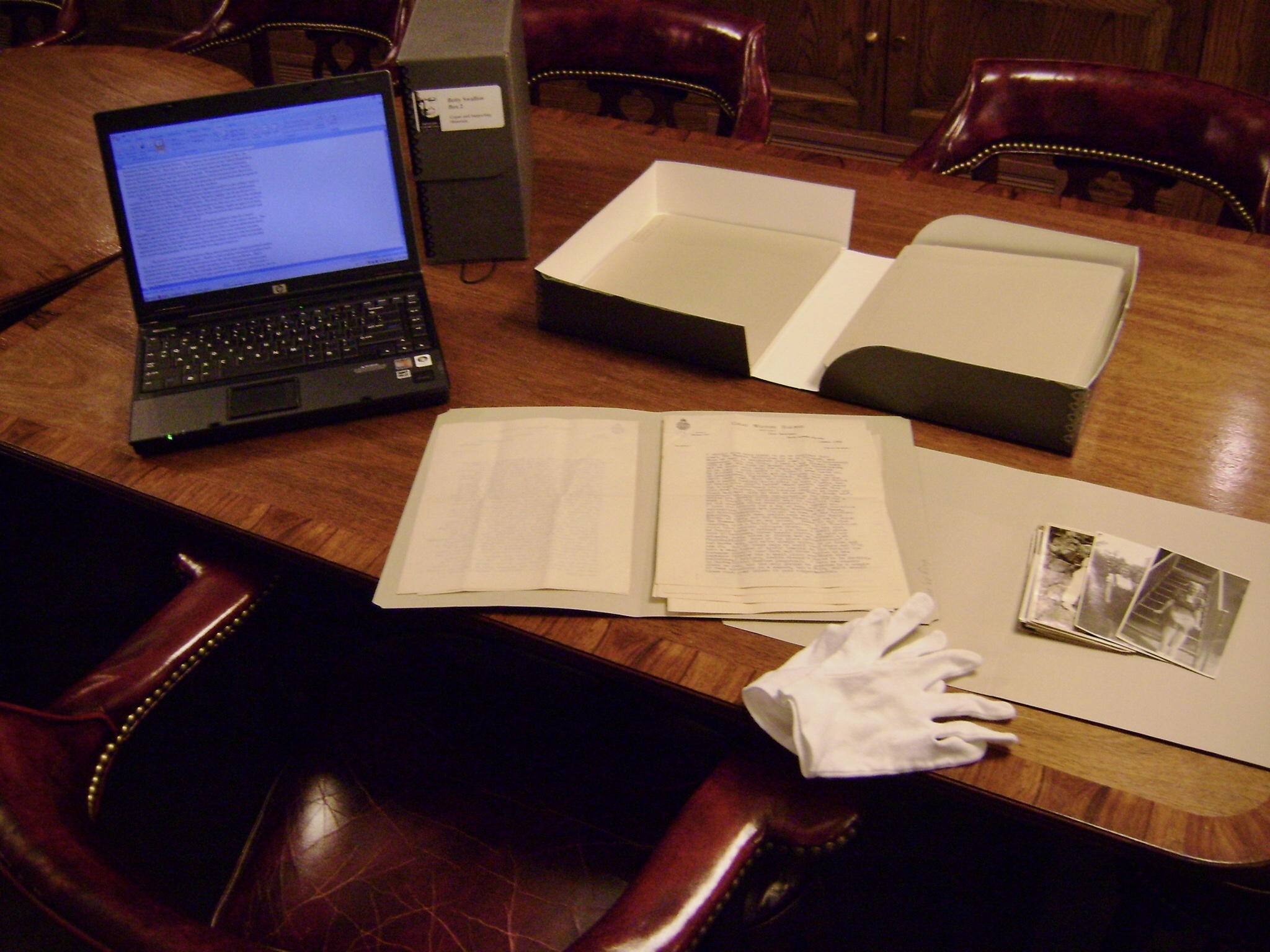 Researchers who seek access to books, documents, photographs, and other material maintained within the Churchill Museum itself should email our staff or may telephone (573) 592-5233. Holdings maintained within the Museum may only be accessed by permission between the hours of 10:00am and 4:30pm, Monday through Friday (except Thanksgiving, Christmas Eve, Christmas Day, New Year's Eve, and New Year's Day). It may be helpful to review our Clementine Reading Room Policy and Researcher Agreement before your research visit.
Send questions and requests to Sandra L. and Monroe E. Trout Director and Chief Curator Timothy Riley indicating what topic(s) interest you.
Complete listing of finding aids are available online on our finding aids page. We have also created a list of topics to help students looking for research ideas for National History Day and other projects.
CITING MUSEUM HOLDINGS
Citations should identify items clearly, specify their file locations, and end with reference to America's National Churchill Museum.
Description, America's National Churchill Museum Archives, Collection Name, Folder, sub folder information
Sample citation to the museum's collections:
Winston Churchill Stands at a podium in the Westminster College gymnasium to deliver "The Sinews of Peace", March 5, 1946. CREDIT: America's National Churchill Museum Archives, Churchill, Truman, McCluer Day Collection, Folder 07, Image 058A
REFERENCE AND DUPLICATION
The staff accepts mail or telephone requests for easily identifiable items and can order copies on the requestor's behalf. The staff, for example, can locate and copy a particular photograph or series of photographs, a particular collection if name or description is known, or even the entire contents of given files, folders or boxes. The staff generally cannot identify for mail and telephone researchers everything on a given topic.
Photocopying and other duplication services are available for fees. Fees other than those for self-service copying done on site should be paid prior to the processing of orders. Copies not carried away are sent by regular mail unless the customer requests and pays for a different service, such as overseas air mail or special courier service.
Fee Schedule
| | |
| --- | --- |
| Self-service paper copies | $.10 per page black and white (grayscale) only |
| Self-service digital scans | $.10 per page |
| High Resolution scans of photographs and documents | $10.00 per image |
Returns of copied material are not accepted unless the staff has made an error in completing an order, and refunds are not made.
FINDING AIDS, GUIDES, AND INDEXES
Registers or other finding aids are on file at the museum for each manuscript collection that is open for research. These finding aids may be used in the research room and borrowed by researchers. Complete register format finding aids are available online on our finding aids site.
Finding aids to manuscript collections give the folder titles that were assigned by the originator of the files and, on some occasions, additional information provided by the archives staff.
Only a limited number of topics are included in the index, and the listings under each topic are not exhaustive. It is available in the research room, and the archives staff will send copies of the listings for a researcher's topic on request.
COPYRIGHT
Copyright restrictions apply in different ways to different kinds of materials. Many of the documents and other historical materials in the museum are in the public domain and may be reproduced and used in any way.
A majority of the museum's donors have donated their copyright interest in their papers and other historical materials to the museum. Other materials in the museum, however, do carry a copyright interest and must be used according to the provisions of Title 17 of the U.S. Code.
The museum issues a warning concerning copyright restrictions to every researcher who requests copies of documents. Although the copyright law is under constant redefinition in the courts, it is ultimately the responsibility of the researcher to properly use copyrighted materials. The staff generally cannot answer questions regarding the use of copyrighted materials, unless the materials in question can be clearly determined to be in the public domain.
If the copyright information is known, it will be listed in the finding aid.