Cocktails with the Curator: Breakthrough
The Museum is mixing a splendid combination of cocktails and items from our world-class collection. Join us at 5:00 p.m CST for a happy hour, when the Museum's director and chief curator offers insights about a work in our collection with a complementary cocktail. Bring your own beverage to this virtual event.
This week's happy hour examines the remarkable Breakthrough sculpture comprised of eight sections of the Berlin Wall. Our very special guest will be artist and granddaughter of Winston and Clementine Churchill, Edwina Sandys, who will share with us insights on her work exactly 30 years after it was dedicated by President Reagan on the Westminster College campus.
No registration is required. To join the livestream on the Museum's YouTube channel, click above.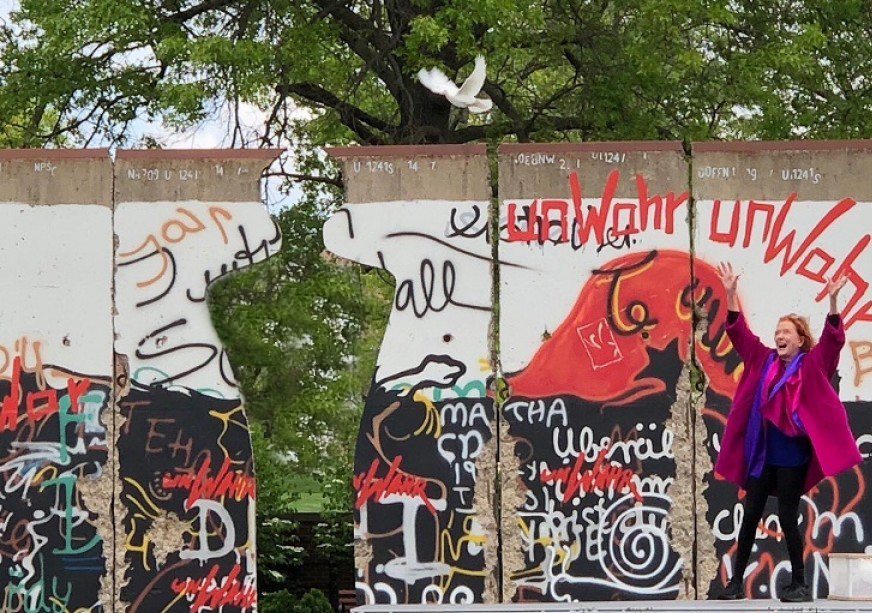 Recommended Cocktail*
Champagne (Pol Roger)
Mocktail
Ginger tea with lemon
*Audiences under 21 are encouraged to join with a non-alcoholic drink.
(Image: Artist Edwina Sandys releases a dove of peace in front of her sculpture, Breakthrough on May 4, 2019.)
Support the Museum's Beacon of Resilience campaign.