U.S. Poet Laureate Joy Harjo Headlines Hancock Symposium
16th Hancock Symposium
Beyond 2020: Finding Opportunity in an Age of Disruption
September 14-16, 2021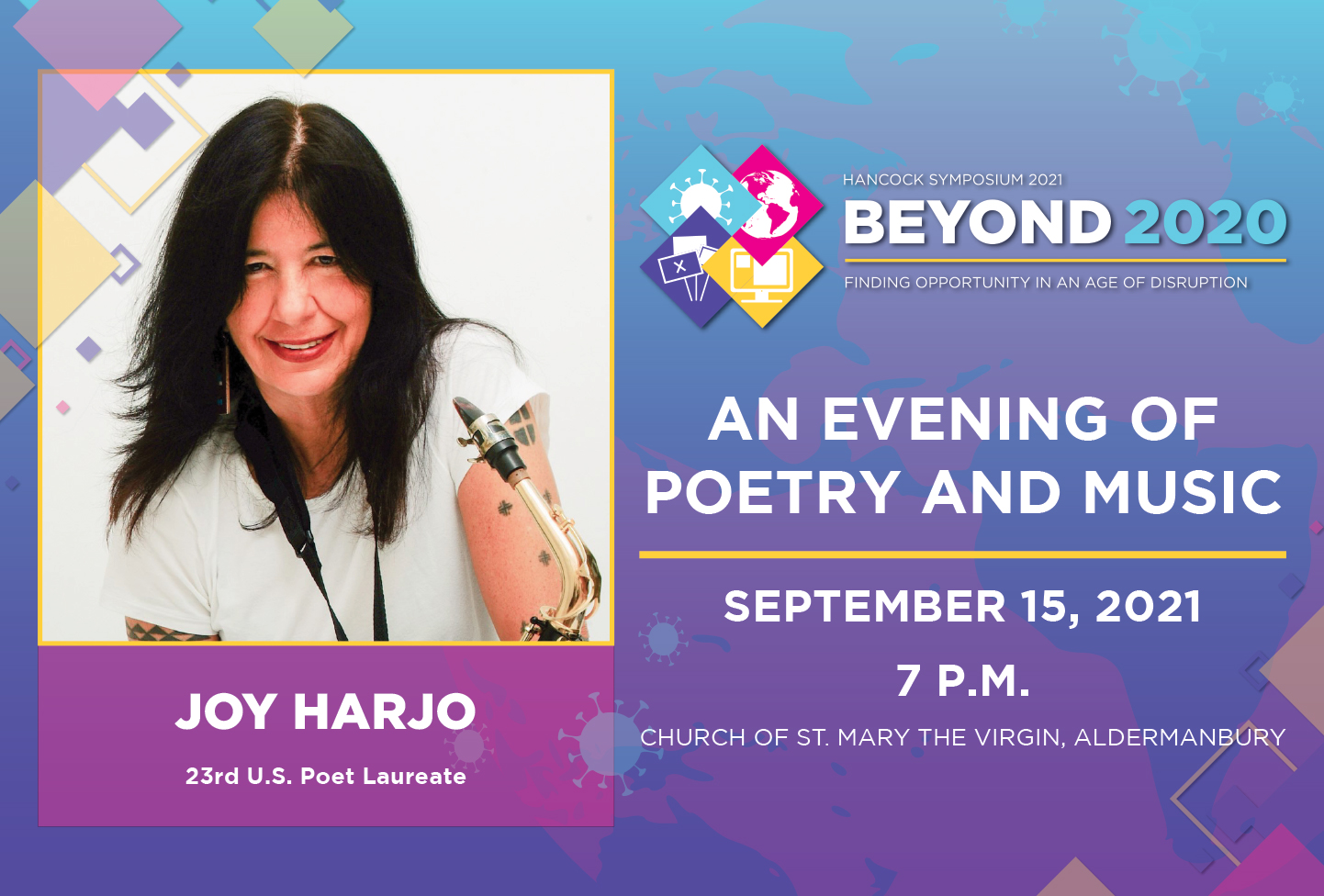 If we needed reminders that life will serve up challenges none of us would have predicted, the year 2020 provided plenty. The great pandemic, heated protests over racial injustice, and a disputed election dominated the headlines. But other great disruptions troubled us at least as much: some as global as environmental disasters, others as personal as the loss of a job or a loved one in the midst of COVID-19. Disruption is often painful, but with it comes opportunity. When the familiar ways forward are blocked, we explore new ways, whether in science and technology, business and finance, politics and justice, or even in how we imagine community and relationships. Beyond 2020, we have the chance to break new ground, letting go of old paradigms and embracing new, innovative ways of working and living together. The 2021 Hancock Symposium invites the Westminster College community to actively and creatively examine the disruptions of 2020 in order to cast a vision for our collective future.
The Museum will host a performance by the 23rd Poet Laureate of the United States Joy Harjo, who will perform in the historic Church of St. Mary the Virgin, Aldermanbury at 7pm CDT on Wednesday, September 15. A book signing will follow the performance. Pre-orders of Harjo's newest title, Poet Warrior: A Memoir, are available from the Museum's online store.
—
Off-Campus Guests: Please note that due to COVID-19 restrictions, only students, faculty, staff, and registered guests will be allowed at in-person events. Please attend any sessions of interest virtually by joining the livestream or webinar for each one, which can be found on the master schedule.
—
In addition to Poet Laureate Joy Harjo, the 16th Hancock Symposium offers an exciting lineup of more than 20 speakers, including: Brian Wesbury, Chief Economist, First Trust Advisors LP; Justin Sperry, Vice President, Technology and Innovation for Biotherapeutics and Vaccines Pfizer, Inc.; Laura King, Curators' Distinguished Professor of Psychological Sciences, University of Missouri; and World Champion and Olympic wrestler J'den Cox.
The complete list of speakers gives a detailed rundown of who and what to expect during Westminster College's signature annual event.