Curator's Choice Gallery Talk with Timothy Riley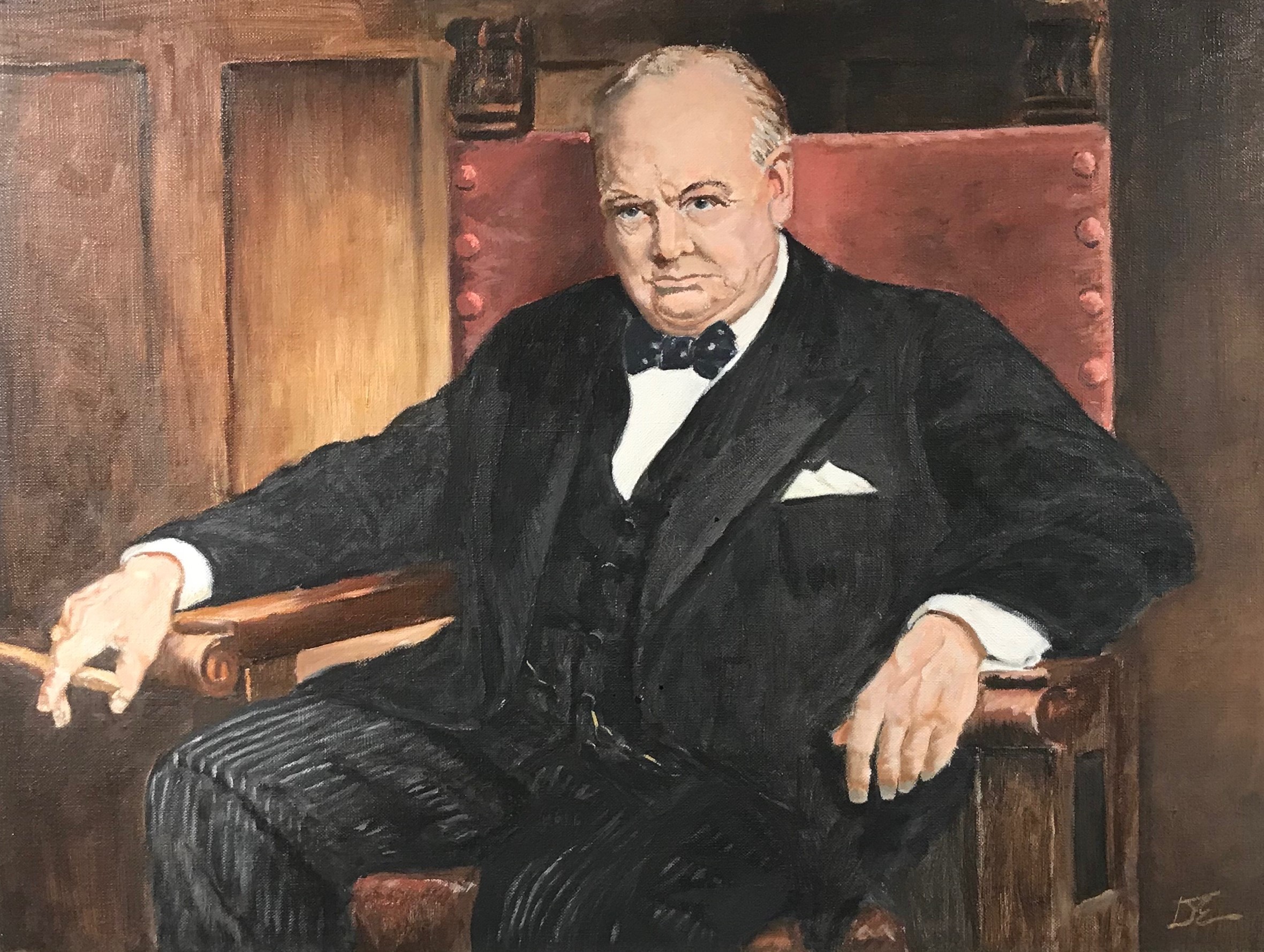 Dwight D. Eisenhower (American, 1890- 1969)
Portrait of Winston Churchill, 1955
oil on canvas
Collection of Harlan Crow Library
Curator's Choice Gallery Talk
Saturday, July 6, 2019
11am
Join Sandra L. and Monroe E. Trout Director and Chief Curator Timothy Riley for a gallery talk examining the painterly pursuits of Winston Churchill, Dwight Eisenhower, John F. Kennedy and George W. Bush.
Painting as a Pastime: From Winston to the White House will be on display in the Anson Cutts Gallery through Sunday, July 7.
"During his lifetime, Winston Churchill created more than 570 canvases and firmly believed that the power of observation, concentration, and creativity afforded to him by painting helped him as a leader and a statesman," said Timothy Riley, Sandra L. and Monroe E. Trout Director and Chief Curator of America's National Churchill Museum. "Churchill's passion for painting inspired Presidents Eisenhower, Kennedy, and Bush to pursue this colorful pastime. We are pleased to present these works of art together for the first time in this extraordinary exhibition."
The three presidential paintings included in the exhibition are Portrait of Winston Churchill (1955) by President Dwight D. Eisenhower, Harbor Scene from the South of France (1955) by President John F. Kennedy and Study for Portrait of Winston Churchill (2017) by President George W. Bush. In the 1960s, both Presidents Eisenhower and Kennedy served as Honorary Co-Chairmen of the campaign to establish the Winston Churchill Memorial and Library, now America's National Churchill Museum at Westminster College.
All three presidential paintings are on loan from the Harlan Crow Library.
Three of the Churchill paintings —Boats at Cannes Harbor (1937), Lake Scene at Norfolk (1930), and Firth of Forth (1925) — are part of the permanent collection or on long-term loan at America's National Churchill Museum.
One of the Churchill paintings,Tapestries at Blenheim (1930), is on display in the Museum courtesy of the Hawthorne Museum.
Winston Churchill's Garden Scene (1920s) is on loan from Clark and Susan Durant and The New Common School Foundation, Detroit, MI. Another work, Portrait of Sir Winston Churchill (1942) by Alfred Egerton Cooper is part of the Durants' collection. Durant, a Churchill Fellow, is co-founder and former CEO of the Cornerstone Schools, a group of charter and independent schools in the inner city areas of Detroit.
All of the works are oil on canvas, except for the Kennedy painting, which is oil with pencil on canvas board.
Winston S. Churchill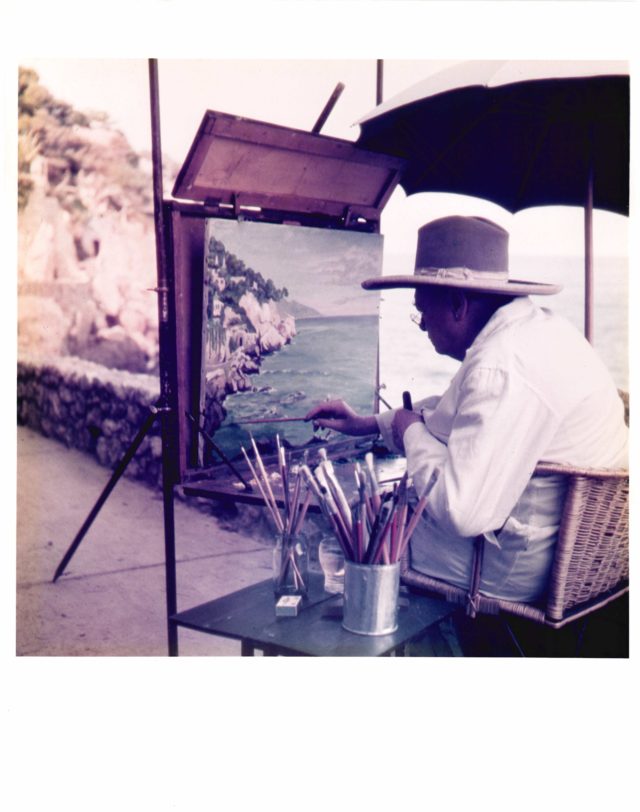 A self-proclaimed pastime painter, Churchill did not begin painting until the age of 40. Although he received no formal training as an artist, he pursued the hobby with the characteristic passion he displayed in all of his endeavors, and it became a lifelong interest.
"Painting came to my rescue in a most trying time," Churchill said in his essay "Painting as Pastime." He fondly recalled his love of vibrant colors. "I rejoice with the brilliant ones, and am genuinely sorry for the poor browns."
Among Churchill's 573 paintings, 350 are landscapes or seascapes. His attention to color and the reflection of light and color on water are his most frequent subjects.
President Dwight D. Eisenhower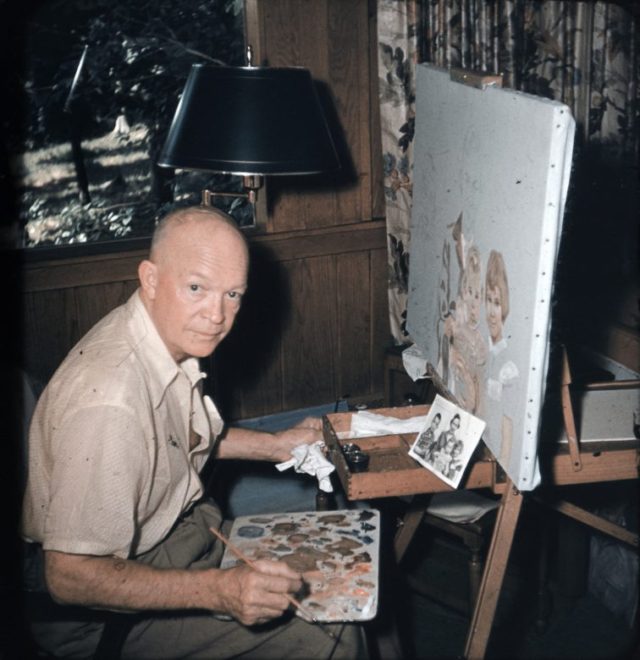 While his friendship with Churchill certainly made President Eisenhower curious about becoming a painter, the direct impetus was watching artist Thomas E. Stephens paint a portrait of his wife, Mamie, when President Eisenhower was President of Columbia University in the City of New York. While Mamie and Stephens were searching for a place to display her portrait, Eisenhower, with the help of his aide John Moaney, stretched a white dust cloth on the bottom of a box for a canvas and Eisenhower attempted to copy the Mamie portrait. Upon seeing the result, Stephens asked for this first effort as a keepsake and sent Eisenhower a painting kit. Although Eisenhower's primary passion was golf, in his late 50s when a weakened heart made physical exercise less of an option, he spent much more time painting.
The exhibition includes Eisenhower's 1955 Portrait of Winston Churchill, a copy of Arthur Pan's famous portrait of the statesman. Churchill, upon hearing of his old friend's desire to paint him wrote to Eisenhower: "I need hardly say I shall be greatly honored to be one of your subjects in an artistic sense. Although my experiences as model have not been altogether agreeable lately, I submit myself with great confidence to your well-balanced love of truth and mercy."
President John F. Kennedy
President Kennedy began painting in 1954 when his young wife, Jacqueline, presented him with a paint set for the newlywed's first Christmas in 1953. She thought Kennedy would find the same peace of mind from the rigors of politics that Churchill discovered in painting.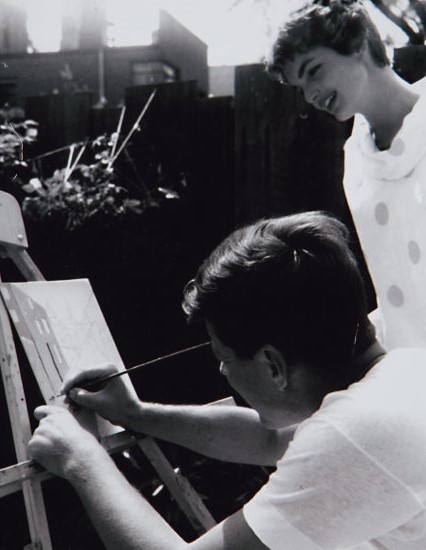 It was not until 1955, when he was recovering from his second and third back surgeries, which were largely unsuccessful, and he was continuing to cope with his numerous other chronic health problems that Kennedy took up painting in earnest. In late July, he and Jackie sailed to Europe in order to both make political connections and aid in his recovery. While convalescing on the French Riviera, Jackie encouraged him to paint as a form of therapy, and he created several landscapes, including the one on display in this exhibition. Although it is difficult to pinpoint the exact location depicted in this painting, another of Kennedy's works published in the April 1962 McCall's magazine is easily identified as Cannes Harbor, the same site as Churchill's Boats at Cannes Harbor (also on display).
The Kennedy painting currently on display at the Churchill Museum was first given as a Christmas present to Bobby and Ethel Kennedy and hung at their home, Hickory Hill, in McLean, VA. Ethel Kennedy then presented it as a wedding gift to her son Michael and his wife, Victoria Gifford Kennedy.
President George W. Bush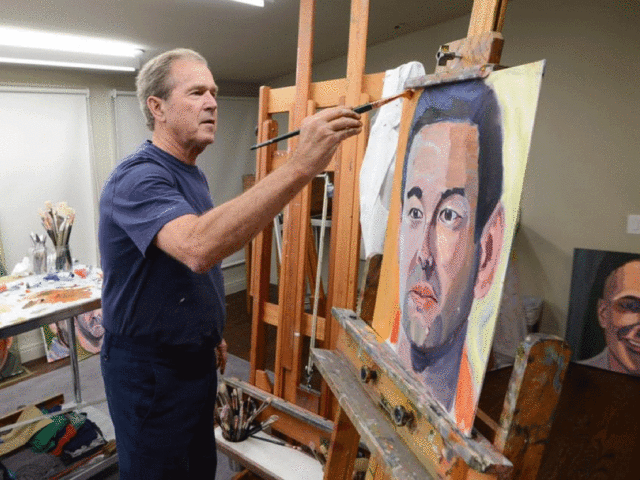 Yale professor and Pulitzer Prize-winning biographer John Lewis Gaddis pointed out to President Bush that he should read Churchill's "Painting as a Pastime." "I decided to read it because of my admiration for Churchill — and because even though I was active, I was antsy," the 43rd President recalled. "I figured that if painting had sated Churchill's appetite for learning, I might benefit from it as well."
Bush hired notable Dallas artist Gail Norfleet as an instructor and set up a studio in what wife Laura called his "man cave." Then, at age 66, Bush picked up a paint brush. "Gail, there's a Rembrandt trapped in this body," he told her. "Your job is to liberate him."
The exhibition Painting as a Pastime: From Winston to the White House helped launch the highly successful Churchill 50th Anniversary Weekend celebration May 3-5.
Photos
William J. Sumits
Churchill at Easel near Aix en Provence, south of France, 1949
Collection of America's National Churchill Museum, Gift of Richard and Barbara Mahoney
President Eisenhower at his easel at Camp David painting his daughter-in-law, Barbara Eisenhower, with his grandchildren David, Anne, and Susan Eisenhower August 1, 1954
National Archives and Records Administration, Eisenhower Presidential Library, Abilene, Kansas
JFK working at an easel, with Jackie looking over his shoulder
c. mid-1950s
Harlan Crow Library
Grant Miller
George W. Bush Painting Portrait of Captain Kevin L. Rosenblum
c. 2015-17
George W. Bush Presidential Center