Preservation Progress during Temporary Closure
America's National Churchill Museum Temporarily Closed as Construction Continues
America's National Churchill Museum and the historic Church of St. Mary the Virgin, Aldermanbury, will be temporarily closed through the spring of 2021 to accelerate more than $3.1 million worth of preservation work, interior renovations, and needed updates.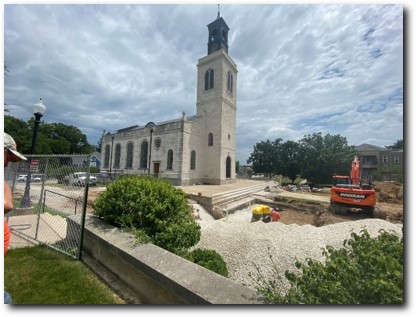 Initially, the Museum closed temporarily to the public on March 15, 2020, due to concern for our visitors as a result of COVID-19, and in accordance with health recommendations by the State of Missouri. Now, with the scheduled construction underway, we have decided to extend the temporary closure to ensure the preservation and related renovation work is completed.
The new construction includes interior renovations to the 50-year-old Museum and specialized preservation repairs to ensure the life of our historic Church, which traces its roots to 12th century London. It was reconstructed here in the 1960s on the campus of Westminster College based on the original plans drawn by Royal Architect Sir Christopher Wren.
One essential construction project focuses on resolving stormwater drainage issues affecting the Museum, which is located underground and outside the historic Church.
"We are creating a new and extensive underground drainage system to move stormwater away from the Museum, church, and adjacent monuments," said Sandra L. and Monroe E. Trout Director and Chief Curator Timothy Riley. "This work has long been needed to prevent water from seeping into the Museum."
The Museum's interior renovations also include restroom updates, improvements to the Admissions area, and work in common areas and exhibit rooms to address social distancing and other health recommendations.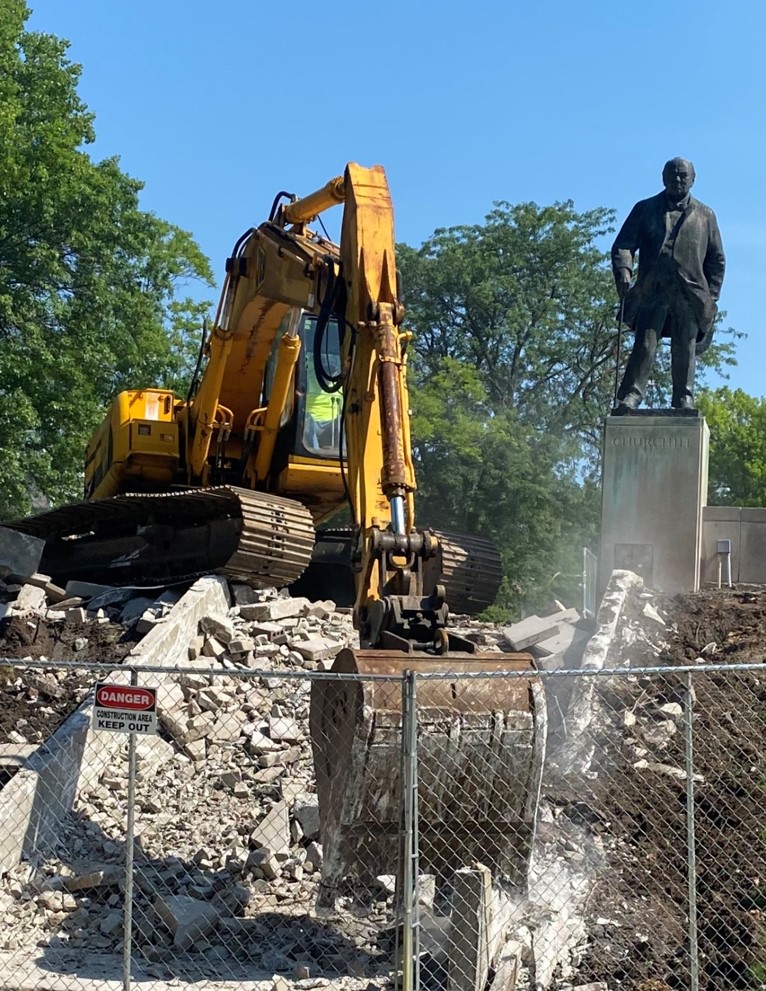 "The work we are doing now will not only create a safer environment in this time of COVID-19, but will serve Museum visitors for many years to come," Riley said, adding that "much more work – above and beyond what we currently have planned – will be needed in the future."
Our goal is to further preserve the Museum and Church and ensure future visitors continue to have a safe, educational, and a highly enjoyable experience while touring America's National Churchill Museum, which is among the Midwest's leading tourist destinations and the only museum in North America dedicated to commemorating the life and times of former British Prime Minister Sir Winston Churchill.
We remain thankful to our many donors and supporters whose generosity is making the renovations and the Church's preservation work possible.
In closing, we invite all of our friends and followers to continue enjoying – virtually – via this website, our YouTube channel, and our social media outlets.
Founded in 1851, Westminster College is a private liberal arts college in Fulton, MO. Located on the Westminster campus, the Church of St. Mary the Virgin, Aldermanbury, is part of America's National Churchill Museum, which recently celebrated its 50th anniversary. The Church and Museum commemorate Winston's Churchill's famous "Iron Curtain" speech, delivered on campus in 1946. To learn more about Westminster College, visit the College's site here.