Leadership Award for Bill Roedy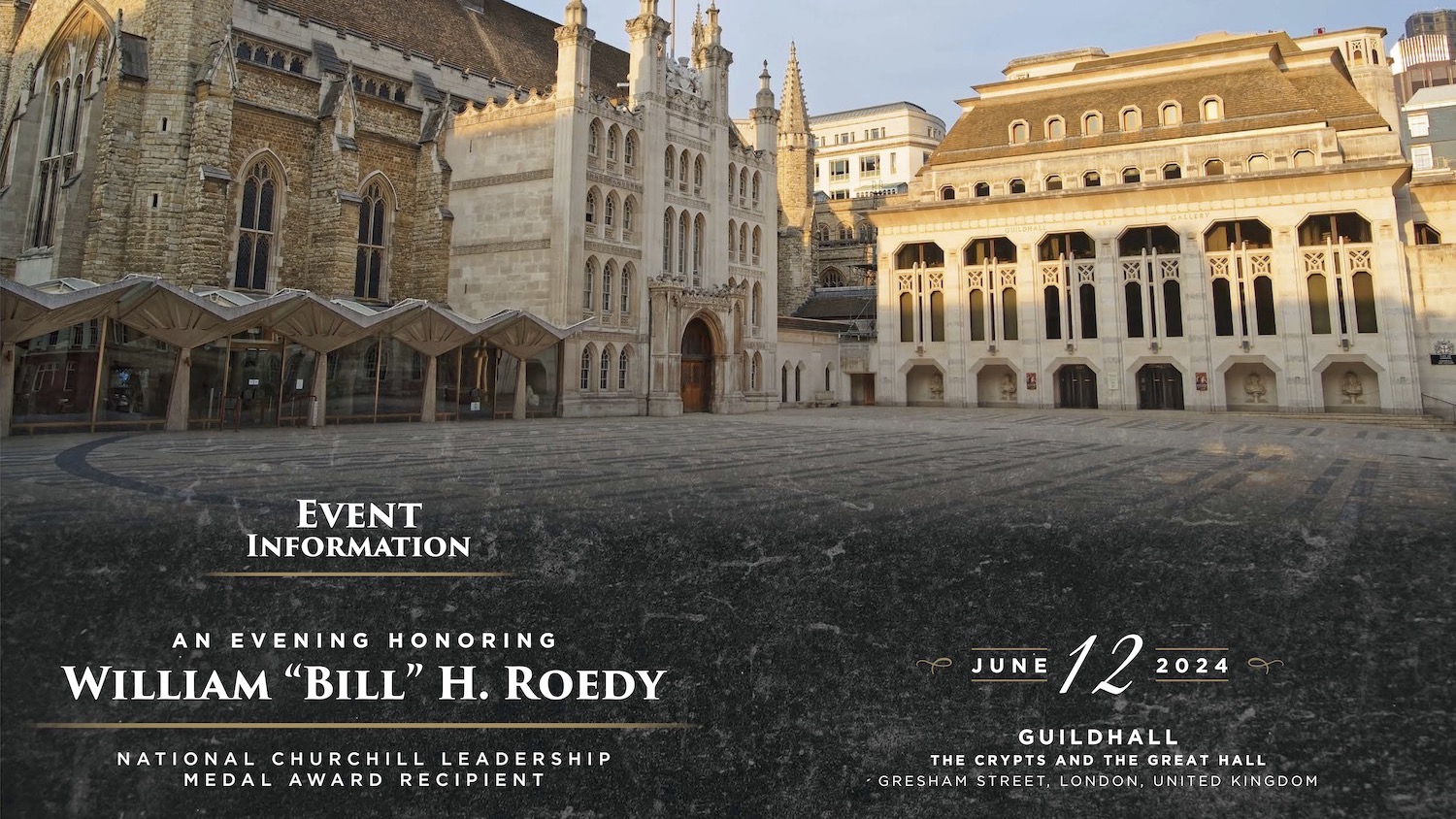 Join Lord (Andrew) Roberts of Belgravia, Randolph Churchill, and a host of other dignitaries from the United Kingdom, the United States, and around the world for an unforgettable evening at London's historic Guildhall honoring two great leaders—Winston Churchill and Bill Roedy.
Sponsorship and Ticket Information
Churchill Fellow Bill Roedy has pursued a lifetime of global service in both the private and public sectors dedicating his life to uniting cultures, freedom for all, and improving well-being worldwide.
As the former Chairman and CEO of MTV International (MTVNI), Bill Roedy built a global operation of 200 channels and 20 brands (including MTV, Nickelodeon, and Comedy Central) in 200 countries, reaching two billion people, launching the most channels in television history. He founded and chaired the MTV Staying Alive Foundation, the longest multi-media campaign to fight the AIDS epidemic.
Bill expanded on his work with HIV/AIDS and was appointed the first Ambassador of UNAIDS, was a founding member and Chair of the Global Business Coalition on HIV/AIDS, was appointed the founding Chair of the Global Media AIDS initiative, became the Chair of amfAR in 2010, and was appointed the first Envoy for the Global Alliance for Vaccines and Immunizations (GAVI), rising to Vice Chair in 2018.
Bill's accolades include an Emmy Founders Award, amfAR's Award of Courage, the Doctors of the World Leadership Award, and the U.N. Global Citizen of the Year Award. Because of his storied career, he's been honored as a Cable T.V. Pioneer, and in 2015, was inducted into the Cable Hall of Fame. In 2020, he was selected as a 'Distinguished Graduate of West Point.'
He graduated from the U.S. Military Academy at West Point, qualified as Airborne Ranger, and volunteered for duty in Vietnam. He received the Bronze Star Air Medal, the Vietnamese Cross of Gallantry (with Silver Star), and the Meritorious Service Medal for his military service.
He is an executive producer of the film documentary 'Battle of amfAR,' and the author of What Makes Business Rock, CNBC's Best Book of Summer 2011.
He and his wife, Alexandra, are parents to four children and live in Miami Beach.