Museum Honored WWII Veterans who Participated in D-Day
Four WWII veterans were honored Thursday, June 6, 2019, during a ceremony observing the 75th anniversary D-Day at America's National Churchill Museum.
The commemoration ceremony began at 11 a.m. in the Church of St. Mary the Virgin, Aldermanbury, part of the museum. Over 100 members of the public attended, including WWII and other military veterans.
Of the four World War II veterans saluted, three were among the 106,000 Allied forces from the United States, Great Britain, Canada, and nine other Allied countries who landed on, or provided air support over, one of five beaches code-named "Utah," "Omaha," "Gold," "Juno" and "Sword" along the coastline of Normandy, France, on D-Day, June 6, 1944. The other Allies who took part in D-Day are Australia, Belgium, Czechoslovakia, France, Greece, New Zealand, the Netherlands, Norway, and Poland.
Dubbed "Operation Overlord," the invasion of Normandy – the largest seaborne invasion in history – was planned by President Franklin D. Roosevelt and British Prime Minister Winston Churchill, and conducted under the leadership of Supreme Allied Commander General Dwight D. Eisenhower, who was inducted posthumously as a Churchill Fellow at the Museum's dedication on May 7, 1969.
D-Day marked a decisive turning point in WWII and changed the course of history because the invasion helped liberate France from the Nazis, and less than a year later, on May 7, 1945, Germany surrendered.
The four veterans, representing D-Day troops and other WWII veterans are:
Morton E. Harris, 99, of Detroit, MI, a Churchill Fellow, is a highly decorated U.S. Army Air Force veteran who successfully completed more than 33 combat missions over occupied Europe, was shot down by enemy fire twice, successfully delivered arms to French freedom fighters who fought in support of the Allied troops, struck coastal defenses and communications networks, flew two early morning sorties during the D-Day invasion of Normandy to attack enemy strongholds at Caen, was a squadron commander in the 95th Bomber Group of the 8th Air Force, and, later flew the first U.S. military mission to Berlin, headquarters of the German military.
James Dale "Jim" Feltz Sr., 94, of St. Peters, MO, is a highly decorated U.S. Navy veteran who served aboard the USS Plunkett, assisted convoys in the North Atlantic, participated in the invasion of North Africa, the axis boot of Sicily, and the Battle of Anzio; and screened transports off Omaha Beach on D-Day; aided in the shore bombardment at Cherbourg, France; and, later landed in Japan with the first occupation troops.
Claude Brauer Friend, 93, of Luebbering, in Franklin County, MOis a highly decorated Purple Heart recipient who served in the U.S. Army as a member of the 23rd Infantry Regiment, 2nd Infantry Division, Heavy Weapons Company H, who was sent to Normandy Beach as one of the first of the invasion forces on June 6th, 1944. His unit fought their way across France through the summer and fall, crossed into Belgium, and courageously fought in the Battle of the Bulge in December 1944 and January 1945, the last major German offensive on the Western Front during WWII.
Richard Toshio "Dick" Henmi, 95, of Webster Groves, MO, is a highly decorated officer who escorted 1,400 German POWs back to Germany on a ship and by train during WWII. He was later assigned as a member of General Dwight D. Eisenhower's division to Karlsruhe, in Munich, where he was responsible for guarding trains and railroad yards in the southern part of Germany and Austria, and guarded shipments into Switzerland and Italy.
The ceremony included selected readings by Churchill, Eisenhower and Roosevelt, and letters from those who landed on the beaches of Normandy on D-Day.
Also taking part in the ceremony was retired four-star U.S. Army Retired General Frank J. Grass, of Arlington, VA, and a native of Arnold, MO. He is a former member of the Joint Chiefs of Staff, who oversaw Army and Air National Guard personnel, and served as a military adviser to the President, Secretary of Defense, and National Security Council during the Obama Administration. He also was the Department of Defense's official channel of communication to Governors and State Adjutants General on all matters pertaining to the National Guard.
"During World War II, more than 16 million Americans served in the U.S. military, with 405,399 killed or missing in action, and more than 671,000 were wounded," said Timothy Riley, the Sandra L. and Monroe E. Trout Director and Chief Curator of America's National Churchill Museum. "The importance of the D-Day campaign cannot be overstated. It was the turning point in the liberation of France and ultimately ensured Allied victory in Europe."
Riley said during D-Day, which began June 6 and lasted through August 21, 1944, Allied forces landed more than two million soldiers in northern France and suffered more than 226,000 casualties, including nearly 73,000 troops who were killed or missing in action. Another 153,475 Allied troops were wounded.
"On the 75th anniversary of D-Day, we honor and salute those D-Day soldiers and all World War II veterans, whose numbers are sadly shrinking at a rate of about 350 a day," Riley said. "Of the 16 million Americans who served in World War II, fewer than 497,000 were alive as of last September, according to the Department of Veterans Affairs.
"All of the courageous men and women who fought in WWII to preserve liberty and freedom, especially those who made the ultimate sacrifice on the beaches of Normandy, deserve our deepest respect, admiration, and profound gratitude," he added.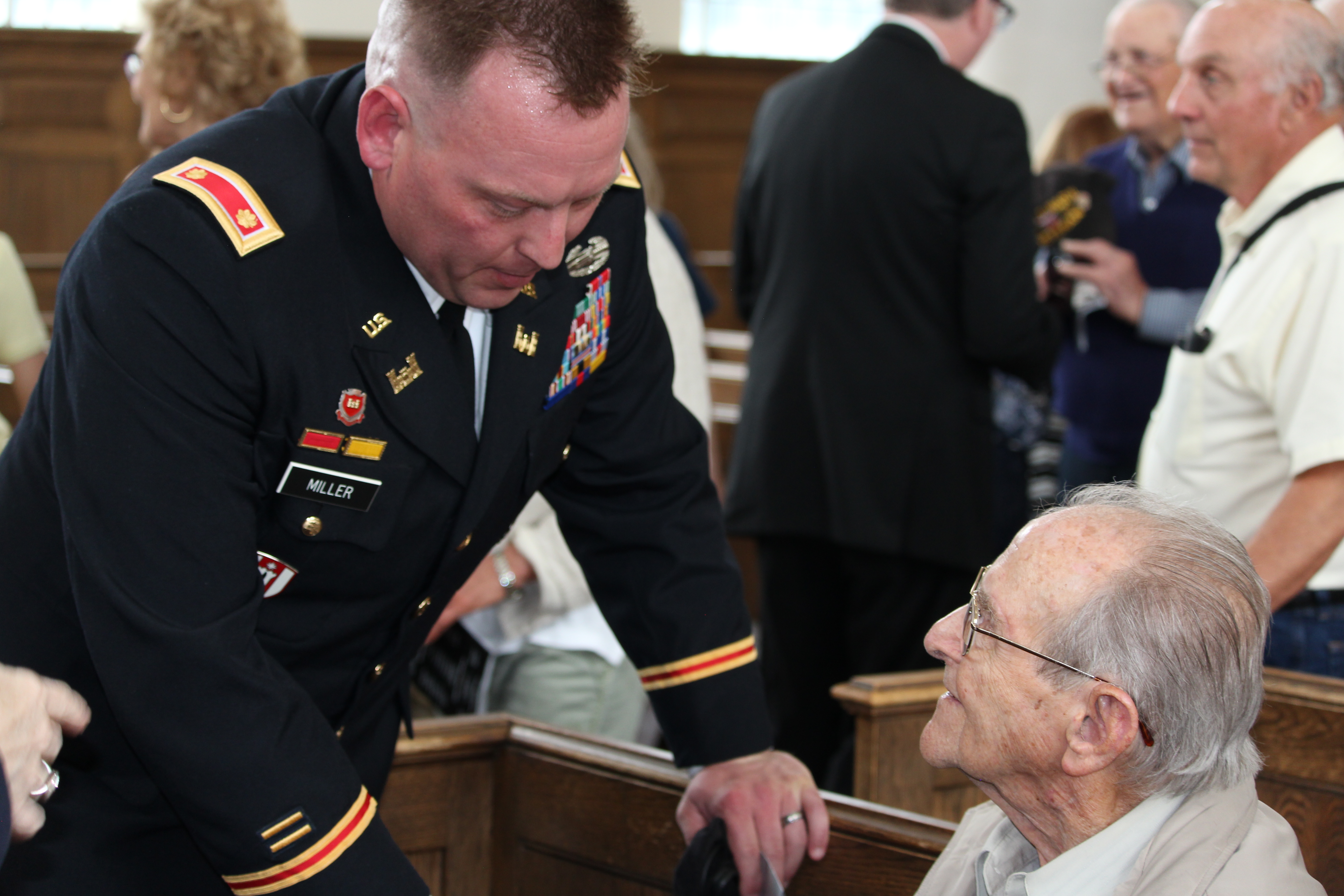 MAJ USARMY NG Travis Miller with USNAVY (Ret.) Jim Feltz, Sr. who served on Destroyer USS Plunkett on D-Day.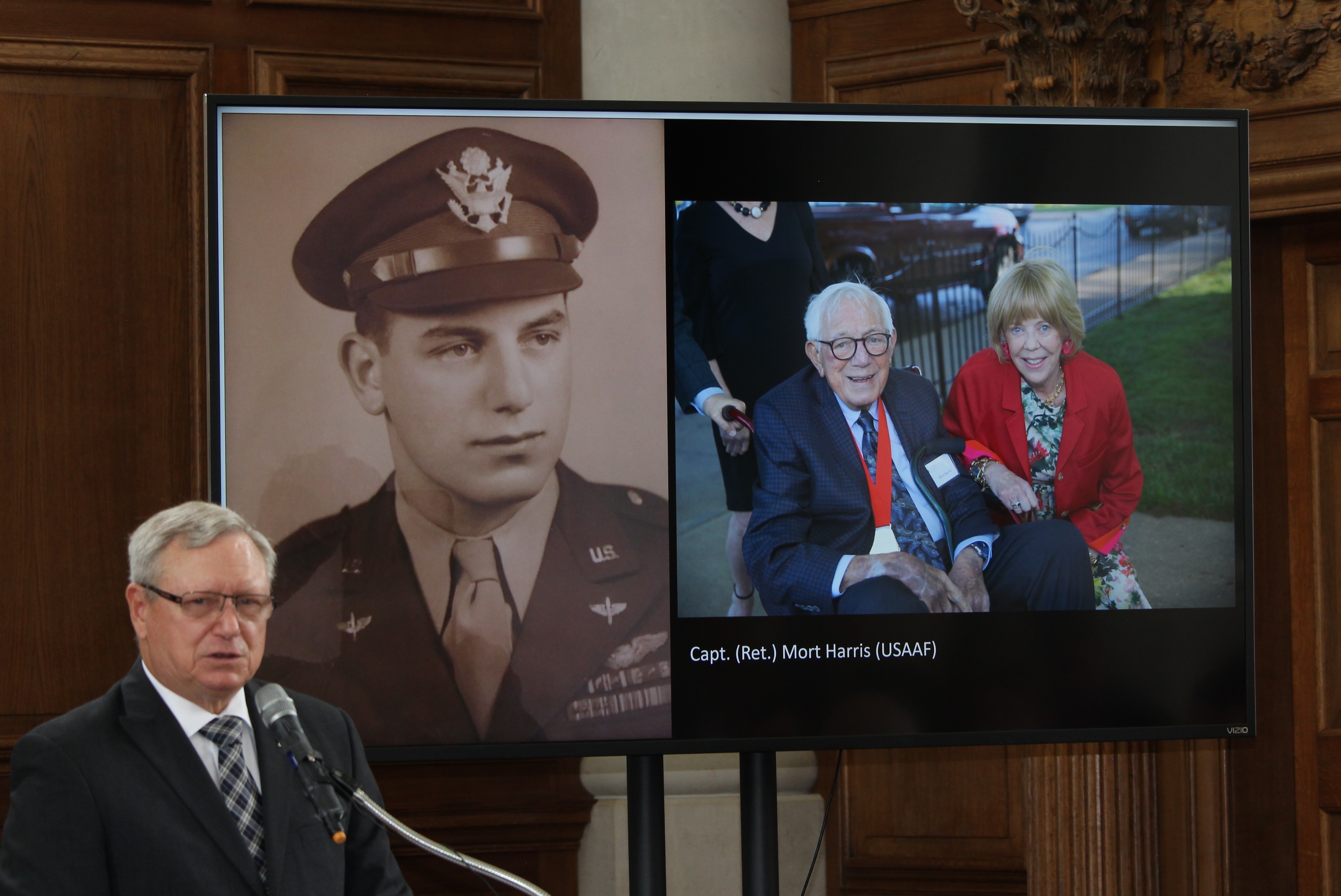 GEN USARMY (Ret.) Frank J. Grass honors CAPT USAAF (Ret.) Morton Harris, a Churchill Fellow. The Museum's Board of Governors declared June 6, 2019 Capt. Morton E. Harris Day. Capt. Harris is depicted at upper right with The Hon. Emma Soames, granddaughter of Winston Churchill.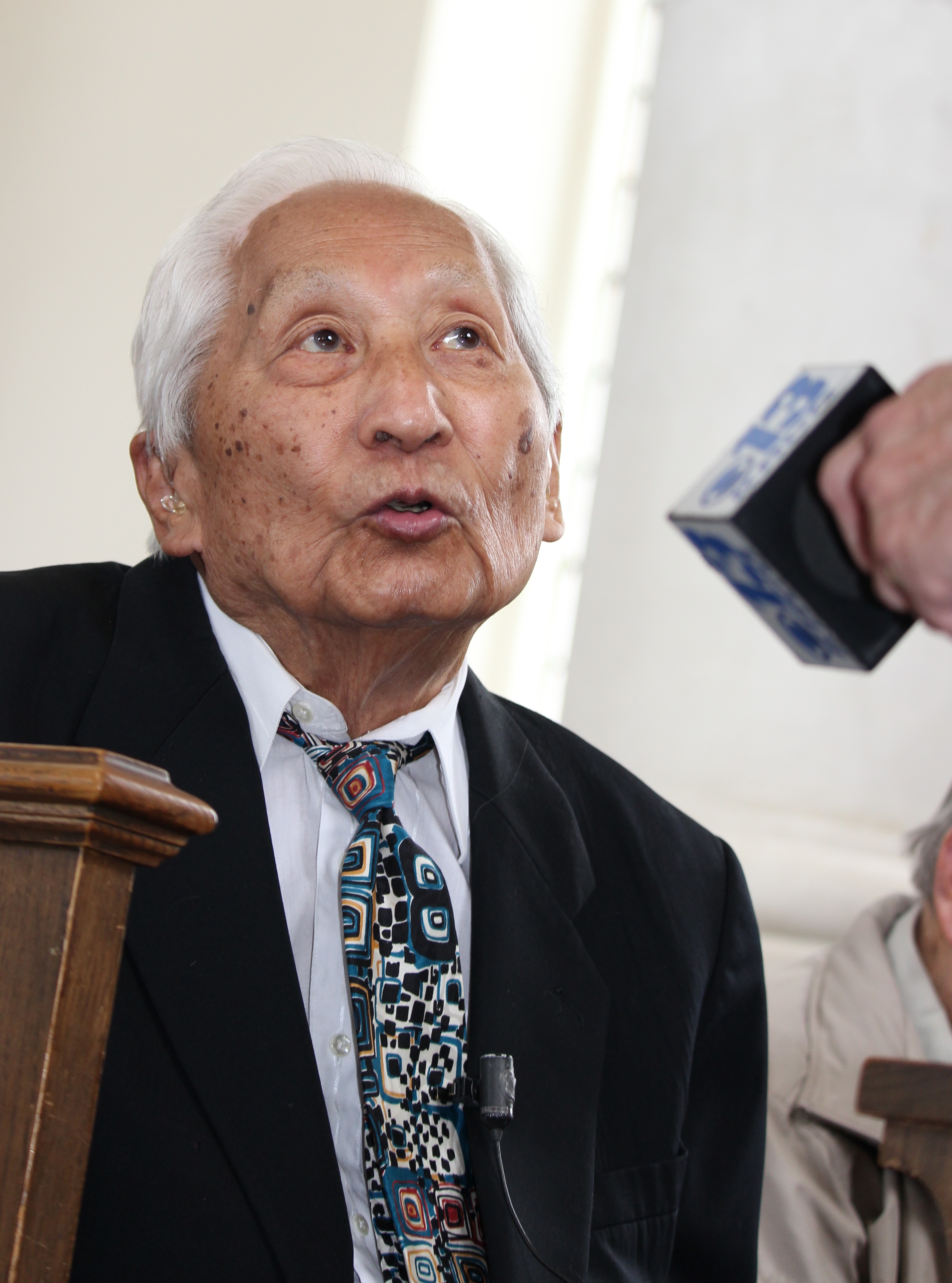 2ND LT USARMY (Ret.) Richard T. Henmi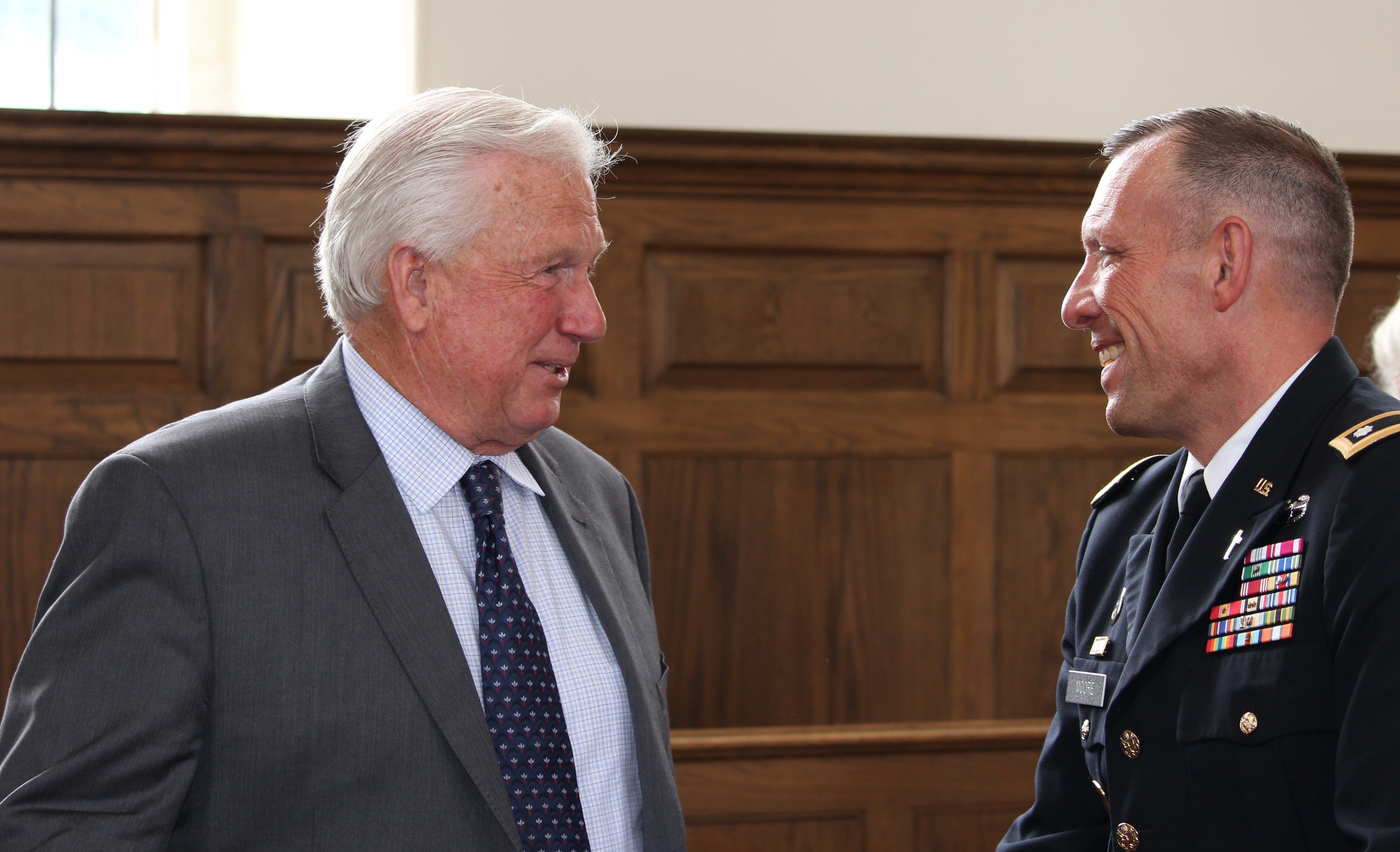 Westminster College President Fletcher Lamkin with Chaplain (LTC) R. Patrick Moore, Senior Army Chaplain, Missouri National Guard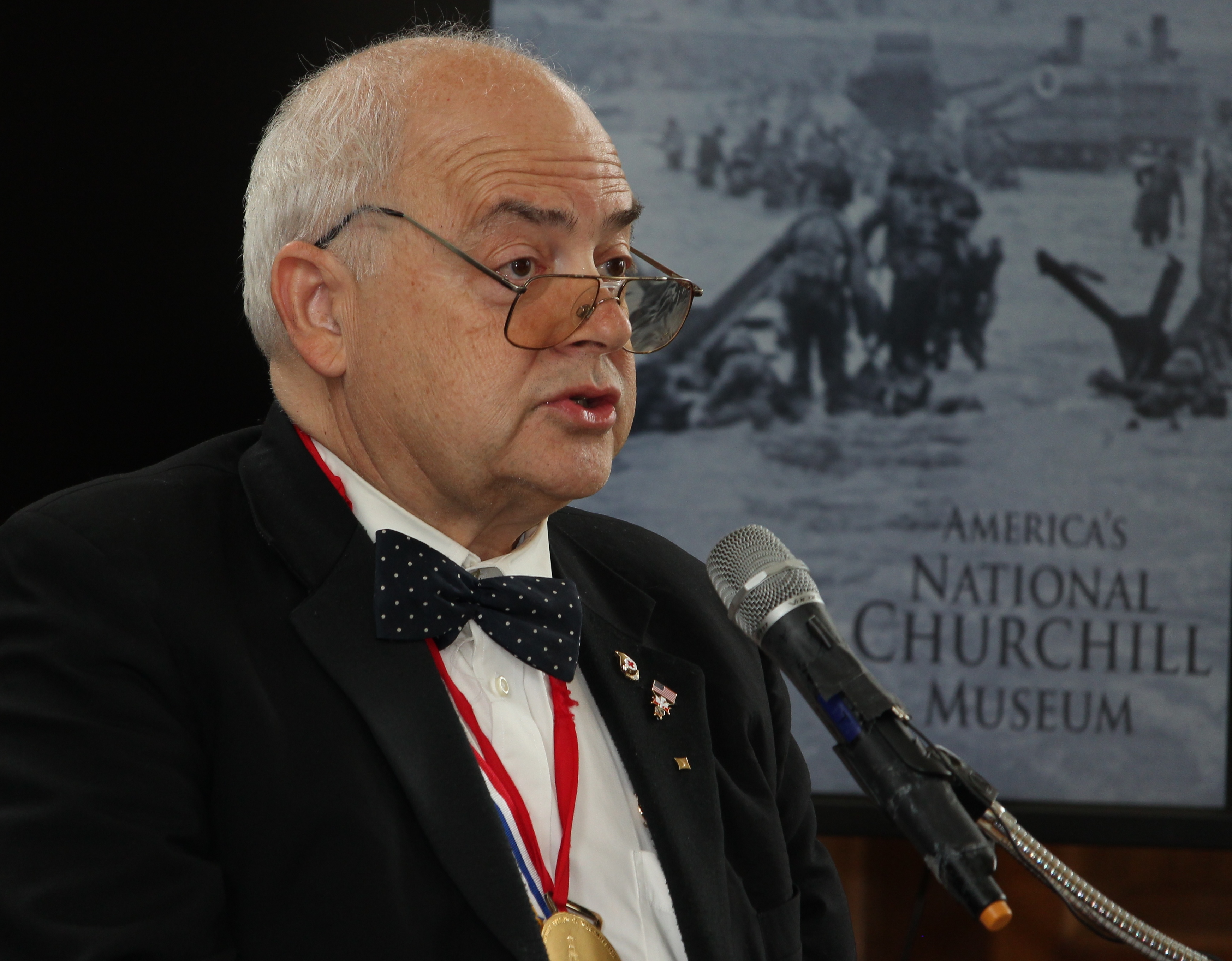 Churchill Fellow and Westminster College alumnus, Warren Hollrah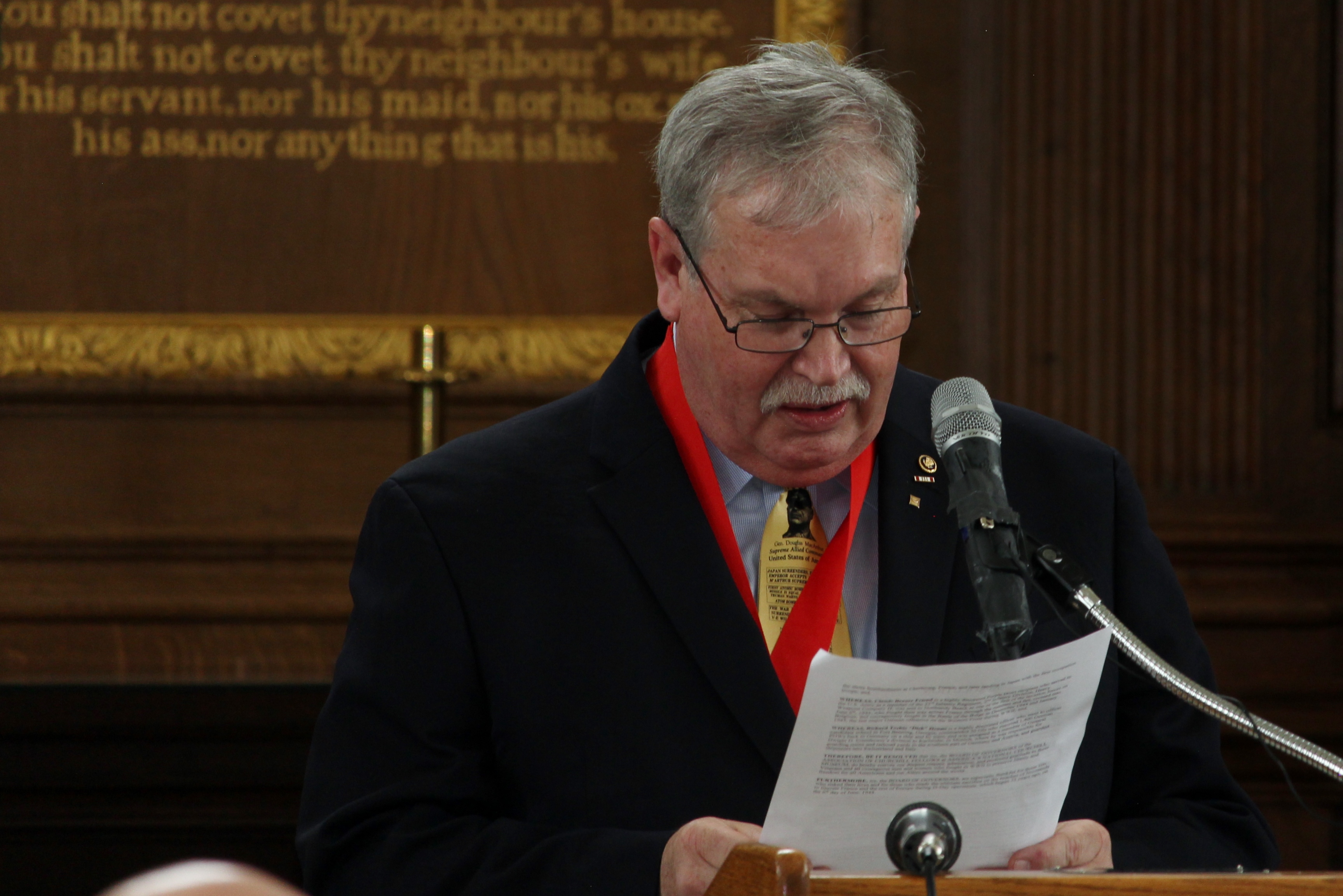 Churchill Fellow, Westminster College Trustee, and USA MAJ (Ret), Brock Ayers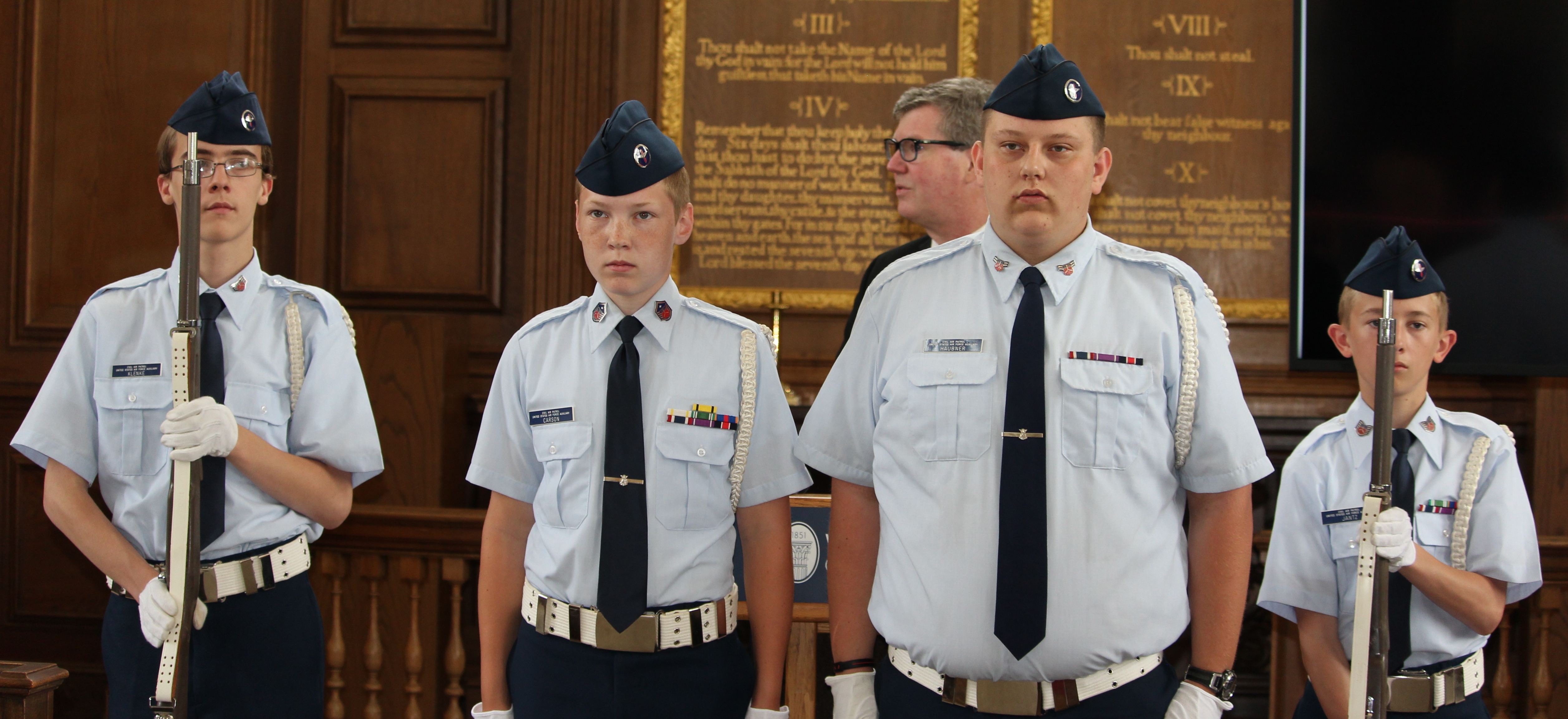 Color Guard from Civil Air Patrol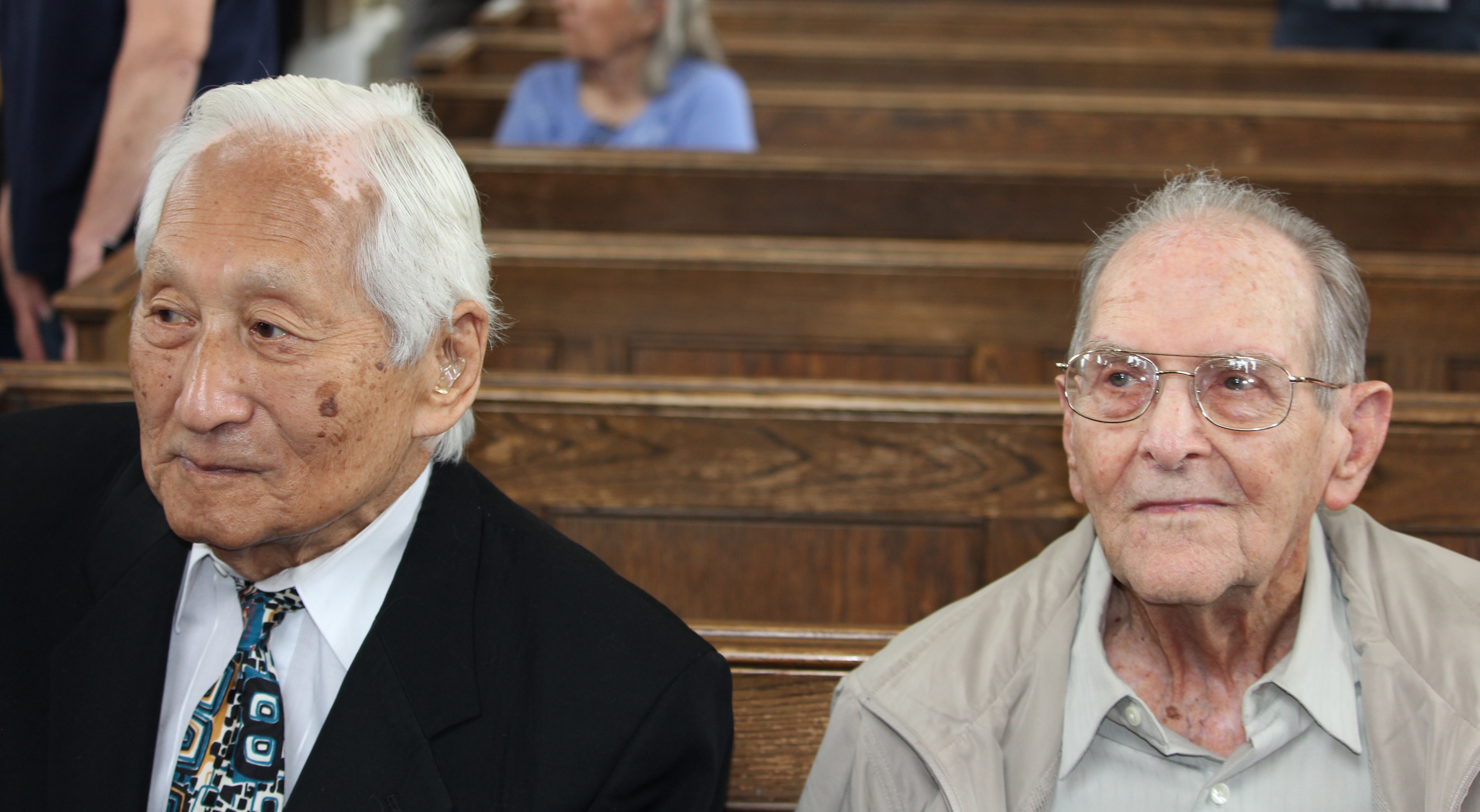 Richard Henmi and Jim Feltz, honored WWII veterans
For additional information, see media coverage in Fulton Sun, Detroit Free Press, and NBC Channel 8 KOMU .