A Message about 50th Anniversary from Garry Kasparov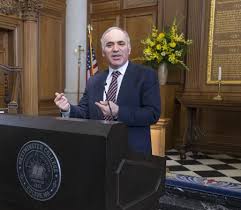 Chess master and human rights activist and Garry Kasparov spoke at Westminster College April 9, 2016, and experienced the wonders of America's National Churchill Museum. Today he articulates the importance of attending the upcoming 50th anniversary celebration of the Church and Museum and visiting and supporting them. Watch Garry's message here.
"Many people make religious pilgrimages, but a visit to the Church and Museum in Westminster College is also a visit to a shrine to democracy and the courage to fight for it.
It's much more than history—it's a beacon for our present and our future. I hope you can show your support to this great institution, and I hope you can make the trip to see it for yourself."
-Garry Kasparov on the 50th Anniversary of the Re-hallowing of St. Mary the Virgin, Aldermanbury and the establishment of America's National Churchill Museum."
—Garry Kasparov, May 1, 2019